News
Kurt Westergaard, key orchestrator of 2005-06 Cartoon Crisis, dead at 86
---
This article is more than 2 years old.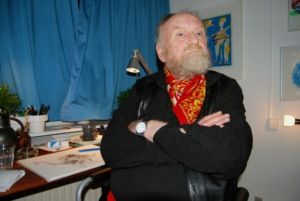 Kurt Westergaard, the illustrator whose drawing effectively sparked off the 2005-06 Cartoon Crisis, Denmark's worst crisis since World War II, has died at the age of 86.
His depiction of the Prophet Mohammed in 2005, complete with a bomb in his turban, proved to be the most contentious among 12 published by Jyllands-Posten in October 2005, and early in 2006 the Arab World reacted with furious anger at the provocation.
"For me, it was just one of the usual tasks; it was not something I particularly thought about," he later recalled to DR in 2015.
"I was just thinking about how to make that drawing."
Survived an assassination attempt
Westergaard, who at the time worked for the newspaper under a retainer contract, was later the subject of an assassination attempt in 2010. 
While he escaped by hiding in a toilet fortified to serve as a panic room, he left a five-year-old grand-daughter alone with the axeman intent on killing him, prompting mass condemnation worldwide.
Three years after the event, the Guardian reported: "He was confronted with a terrible choice: risk being killed in front of his granddaughter, or trust that the PET knew what they were talking about when they had told him terrorists usually don't harm family members but stick to their target."
The attempt is believed to be one of many planned on his life, and he was under constant protection from PET bodyguards for the remainder of his life.
Initially an educator
Westergaard's first career was in education, firstly as a German teacher at Grindsted school, and then as an inspector at a special needs school in Djursland.
But in 1983, he switched career paths, taking on employment at Den Ny Demokrat in 1983 and, after that newspaper closed six months later, moving to Jyllands-Posten, with which he was under contract until 2010.
Following his death, art dealer Erik Guldager confirmed to DR that Westergaard's work is very much in demand across the world, and that it has so far sold in 61 countries – more likely due to notoriety than artistic merit.
It is a measure of the man that Geert Wilders is among his admirers, and following his death the Dutch politician took to Twitter to republish Westergaard's controversial drawing and urge his followers to do the same.