News
A Diplomatic Upbringing: It sure is difficult to be home again after four years living in an international environment!
---
This article is more than 2 years old.
Diplomacy magazine interviewed Hanna Nijdam, the daughter of a Dutch diplomat stationed in India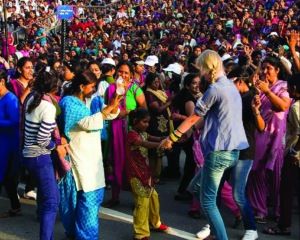 Hanna Nijdam is the daughter of Jelle Nijdam, and together in 2012 they were stationed at the Embassy of the Kingdom of the Netherlands in New Delhi, India, where he was the counsellor of science, technology and innovation.
When Hanna moved to India, she was a young teenager and she ended up spending many of her formative years there. 
Difficult to return
Upon her return to the Netherlands four years ago, she found it hard to assimilate again: from getting used to the strict rules and coping with the sheer predictability of life in her homeland.
Still today, she finds herself drawn to international environments, but that's not always possible: 
"I'm living in the countryside now for my bachelor studies, while surrounded by all these Dutch sober farmers, I couldn't be any further away from colourful and vibrant Delhi!"
---
How did people react when you and your family moved to India?
We lived in a small village in the Netherlands before we moved to India. In the summer everyone would normally go on holiday somewhere in the Netherlands – further afield in Europe was considered to be quite special! So when we told everyone the news that we were moving to India, they were kind of in shock, haha.
What did you learn from living in India?
I was 14 when we moved to New Delhi. At that time I was still really discovering who I was. In India, I found that I look for freedom in life and want to make my own decisions. That's one of the biggest realisations I had while we were living abroad. I don't like rules – especially not the strict rules we have in The Netherlands.
How do you interpret diplomacy?
Diplomacy is about building bridges, not for yourself, but for the country that you represent. You exchange knowledge and viewpoints to become a better nation. Diplomacy is key to making this exchange work.
What are the skills of a good diplomat?
At home, we were always really open about my father's work. It was not a mystery what he was doing. It became clear to me that being a diplomat is almost equal to being a networker. My father explained how he connects people, which is much more than just talking with people. It's about building a network and making sure it functions. I think that's a really good skill to learn. You think critically about what you can offer people and with whom you can connect them.
Does diplomacy attract you?
I'm not the best networker. It wouldn't suit me to be the middleman all the time. I want to be the one that does stuff, thinks about solutions and actually works on these myself.
What skill did you bring home after living in India?
I very much enjoyed being surrounded by an international environment for four years. I definitely learned a lot from it. It has made me much more open to living and working with people from different countries and backgrounds. I'm also very glad that I know so many nice people all over the world. It's the best souvenir after living in India for four years.
What aspirations do you have?
I want to move and see more of the world – I've already spent way too long in the Netherlands! When I came back from India, I travelled to Mexico, Italy and the Czech Republic. Travelling is really something that runs in my family. My father has spent a lot of time abroad, but also my grandparents have travelled a lot. I think due to India I realised already quite early in my life that I really like exploring new countries and cultures. However, I can't leave the Netherlands right now. I'm still busy with my bachelor's degree in equine business management. I live in the countryside now surrounded by Dutch farmers and horses. In the third year, I can switch to an international version of the degree, which I will obviously do. I love being in an international environment.