News
Can shuttlecock star follow sailor's success and win another gold for Denmark?
---
This article is more than 2 years old.
The Danish public sang their first 'Der er et yndigt land' of the games thanks to Anne-Marie Rindom yesterday, and Viktor Axelsen is looking a good bet to spark off another shortly after lunchtime today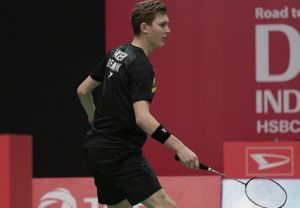 It had been a long time coming, but following sailor Anne-Marie Rindom's victory in the Laser Radial class yesterday, Denmark could add a second gold medal in the men's badminton through Viktor Axelsen, whose final starts at 13:50 EST.
Nation in celebration
Yesterday belonged to Rindom, though. The 30-year-old double world champion in the event finally claimed the gold that eluded her in Rio, finishing seventh in the medal race.
Had her most serious competitor in the hunt for gold, Dutch sailor Marit Bouwmeester, placed in the top three, she would have lost out, but Bouwmeester could only finish sixth, finishing third overall behind Sweden's Josefin Olsson, the runner-up in the medal race.
It was time for a hitherto highly nervous Rindom to wrap herself in a Dannebrog and for the watching Danish public, enjoying an earlier than normal Sunday breakfast, to sing their first 'Der er et yndigt land' of the games.
Sailor's language
Rindom was quick to prove she's a sailor through and through.
"For hell, I've been dreaming about it ever since I was born! Fuck, that's so cool. Sorry, I swear, but that's the wildest thing," she said.
"It was such a difficult medal race. It was up and down. My boat filled up with water because my plug wasn't working."
Presumably, her apology was for using the expression 'For helvede', as that is deemed more offensive in Danish than the word 'fuck'. 
Completing the set
Rindom, who seemingly had the gold medal wrapped up before a disastrous fifth day of racing saw her record her two worst performances of the event, is the first female sailor to win a gold since Kristine Roug in 1996.
After her bronze in Rio, she is also the first Danish woman to ever win two Olympic medals.
She won the world championship in the Laser Radial class in both 2015 and 2019.
Resolved to reverse Rio result
Looking ahead to the rest of the week, Axelsen will need to beat defending Olympic champion Chen Long in the final to claim gold, and as the world number two, the 27-year-old is a marginal favourite with bookmakers to prevail over his much older opponent.
Chen wasn't highly fancied ahead of the competition, with most pundits concurring that the 32-year-old's best days are behind him.
Nevertheless, the world number six has won 14 of his 19 contests against Axelsen, including a straight sets victory in the semi-finals in Rio. 
World champs on track surely
Should Axelsen fail, there are lots of other opportunities for gold medals for the Danish team – most notably in track cycling, which has pedalled off with a vengeance over the past 24 hours.
Should everything go to plan, the men's pursuit team, the world champions and record holders in the event, will be gunning for gold at 11:06 on Wednesday morning.
And there are also considerable track cycling medal chances in the men's omnium (Fri 10:55) and men's madison (Sun 9:55).
In their hands; slim sailing hope
Elsewhere, the men's handball final (Sun 14:00) could offer up another gold, although Denmark will first have to see off Norway in the quarter-finals on Wednesday at 10:00 and win their semi on Friday.
On the track, Sara Slott Petersen is not expected to match her Rio silver in the 400-metre hurdles. She competes in the semi-finals at 13:55 today.
And Jonas Warrer and Jakob Precht Jensen will need a calamity to befall their rivals in the postponed medal race of the men's 49er sailing class today, should the weather  permit it. Lying in fifth place, they'll need to beat either the British or Spanish crew by five places to claim a bronze. 
Sweden currently top Scandis
As things stand, following Rindom's gold and Pernille Blume's bronze in the 50-metre freestyle yesterday, Denmark sit in 34th place in the official medals table with four medals.
Leading them by seven places are Sweden, following their gold and silver in the men's discus ("I am a Swedish Viking!"), who also have four medals, while Norway are 38th with three medals.
Finland, meanwhile, are a lowly 73rd with just one bronze medal at present.