News
Beetle mania: Beware unwanted guests from Japan!
---
This article is more than 2 years old.
Currently eating itself through the menu in Switzerland, there are concerns it could be heading north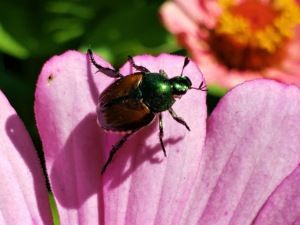 Landowners, farmers and hobby-gardeners should be on their guard: an unwelcome guest from Switzerland is travelling north and has a huge appetite.
Now, don't be alarmed: we are not talking about Swiss tourists at the all-inclusive breakfast buffet. This is the Japanese beetle, which has been creating havoc near Basel close to the Swiss-German border.
And concerns are growing that the little pests could make their way through Germany to Denmark.
No fussy eaters
According to the Center for Agricultural Sciences (LTZ) in the Swiss city of Augustenberg, the beetle's emergence can do major harm to fields, as they are especially hungry for grass.
However, their preferences know no bounds, and they don't tend to discriminate against any plants really.
LTZ predicts that more than 300 species could become endangered by a potential invasion, including roses, apple trees and strawberry plants.
Blind passengers
The Swiss authorities suspect the beetles hitchhiked their way up from around the area of Lago Maggiore in Italy, where there had previously been a high occurrence of the beetle.
Most likely, they hopped onto one of the many food-transporters heading across the Swiss border.
Keep your cool and do as follows
The Japanese beetle has quite a few lookalikes, but under close inspection it will have be 10-12 mm long and have white tufts of hair along its sides.
Should you spot one, contact Landbrugsstyrelsen, the Danish authority on agricultural concerns.