Things to do
Copenhagen 2021 Performance Review: An immersive, drug-fuelled but strangely uplifting techno-trip
---
This article is more than 2 years old.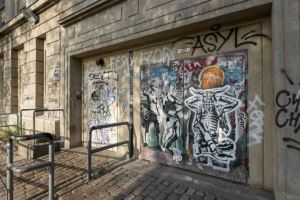 It's tonight! Your last chance to catch Berghain – an immersive new play by Reumart-winning playwright Magnus Iuel Berg and directed by Jeremy M Thomas. On its final performance night, visit a theatrical, but no less debased and drug-infused, version of the legendary Berlin techno-mecca at Skuespilhuset.
A straight guy walks into a gay bar …
The story follows 'nameless single straight guy' (Daniel Neil Ash) as he nervously queues for the entrance, buys and pops ecstasy in the line, and eventually makes it past infamous stony-faced Sven on the door.
Once inside he complains he can't feel the drugs as he ambles around Panorama bar and buys another pill in the toilets, only to be rammed with both highs at once, sending him into a stunning overdose.
A Berghain love-story
On the ensuing trip he pursues the Rabbit (Kristen Flanagan) – a vixen he spotted in the line – before blacking out. He then briefly comes to, first to find himself up against a wall getting sucked off, and then eating the ass of a big-tittied trans seductress in one of the debaucherous dark rooms.
In a daze, he stumbles out to find the Rabbit getting eiffel-towered by two big-cocked leather daddies. Finally, gurning and heartbroken, after collapsing in the bathroom and being revived with a bump of coke, he re-enters the dancefloor just in time for the fabled sunrise techno-bass drop.
Pure bass
Simon Muschinsky, ex-keys player from Danish electro-outfit When Saints Go Machine, DJs the performance. The soundtrack is gothic but uplifting: Detroit techno with barely-there sprinklings of Euro and some Moroder-esque synth for good measure. Otherwise it's pure bass.
For a Danish audience poised on the brink of the nightlife sector's reopening, it's almost too good to be true. Most were swaying (or at least twitching with the effort of restraint) and many were all-out dancing in the pulsing darkness.
It's free, free, free!
Berghain is brave, honest and above all a huge amount of fun. It's free to watch – you can just walk into the foyer of Folketeatret, grab a drink and go to the coat check and … wait, that's not necessary. But just like a real dancefloor, the audience is a mixed bag.
Embrace it. Go in your leather, bring a collar and a leash, wear a strap-on! Or whatever. Berghain doesn't hold back and neither should you.