News
Copenhagen 2021: If we could turbine good times!
---
This article is more than 2 years old.
Ørsted lighting up windmills for LGBTI+ event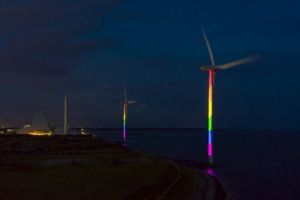 If you've taken a midnight stroll in the vicinity of Valbyparken or Brøndy Strand area of late, or more specifically Avedøre Power Station – a plutonium heist to fire Doc Brown's DeLorean, perhaps – you might have noticed some unusual colouring in the ocean.
No, it's not bioluminescence in the water or the end of 'The Abyss', but in fact the result of a little initiative orchestrated by the energy company Ørsted to mark the ongoing LGBTI+ festival Copenhagen 2021, of which it is an official partner.
Until next Sunday, three of its wind turbines will be lit up in rainbow colours.
A symbol of inclusiveness
"Even though we've come a long way, there's still a struggle to be fought to ensure a fully inclusive global society," commented Henriette Fenger Ellekrog, an executive VP and chief HR officer at Ørsted.
"As a sustainable company, we work not only for a greener world, but also to be an inclusive company with room for everyone and equal opportunities for all, regardless of personal characteristics. The three wind turbines in rainbow colours are a symbol of this."
The three wind turbines are lit up in the rainbow colours every day from 20:00 until 06:00.