News
Science Round-up: First in-human trial of Danish corona vaccine returns promising results
---
This article is more than 2 years old.
Plus, new research reveals that cycling halves the cardiovascular mortality risk in diabetes sufferers, while the University of Copenhagen's 'TOUCHLESS' project promises to ease lockdown loneliness by replicating hugs via haptic technology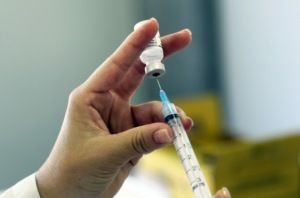 Hellerup-based biotechnology firm Bavarian Nordic – the developer of the first Scandinavian-produced COVID-19 vaccine ABNCoV2 – has released the results of its first in-human trials.
The report concludes that "the ABNCoV2 vaccine was well tolerated across all dose groups with no observed difference in adverse effects after the first and second vaccination."
A strong booster effect was demonstrated after the second vaccination, with antibody concentrations above those detected in humans who had a natural immunity after contracting and recovering from COVID-19.
Following the jab, the blood concentration of specialised 'neutralising antibodies' – antibodies that bind to pathogens and prevent them from spreading – was also significantly above those reported for currently approved SARS-CoV-2 vaccines.
A universal booster?
Importantly, the vaccine was found to be effective against all SARS-CoV-2 variants of concern, including the dominant Delta variant.
Paul Chaplin, the president and CEO of Bavarian Nordic, commented: "We are very pleased to report positive results from this first-in-human trial of our COVID-19 vaccine, confirming its ability to induce strong and broad antibody levels superior to those of the current approved vaccines, while also providing a favourable safety profile."
"The data is encouraging for our planned Phase 2 trial, which is designed to evaluate the vaccine's potential as a universal booster vaccine," he added.
The phase 2 trial – to be held in Germany later in August once approved by the Ethics Committee – will include up to 210 subjects. Final results are expected in the second half of 2021, while preparations for a phase 3 trial in 2022 are pending external funding.
---
Cycling reduces the risk of premature death in diabetes-sufferers
Danish researchers from TrygFonden's Center for Active Health (CFAS), Rigshospitalet and the University of Southern Denmark have been the first to show that cycling can reduce excess mortality among diabetes sufferers. Moderate and high- intensity exercise that elevates the heart rate is a cornerstone of diabetes treatment. But for the approximately 280,000 Danes with diabetes, it can be difficult to implement regularly. The study, published in JAMA Internal Medicine, followed 7,500 people with diabetes for up to 15 years and found that those who took up biking halved their risk of cardiovascular mortality. On average, researchers observed a 20-25 percent lower risk of premature death in those who cycled than those who did not – even when the habit was adopted relatively late in life.
Researchers identify genes for longer reproductive life in women
Fertility researchers have identified nearly 300 gene variations that affect the reproductive life of women. Experiments on mice succeeded in manipulating several of these key genes to increase the reproductive life of the mice by 25 percent. "The average age for when Danish women have their first child has risen from 23 to 29 over the last 60 years. This means that more people need fertility treatments such as IVF and 6 percent of all children are born after successful treatment," said Professor Eva Hoffmann from University of Copenhagen. But these are stressful, expensive and lengthy fertility treatments that many would like to see replaced or supplemented by less invasive alternative gene therapies. The report 'Genetic insight into biological mechanisms governing human ovarian aging' is published in Nature.
Dinosaurs lived in warmer and more variable climates than we thought
The climate in the late Cretaceous period, when dinosaurs roamed the earth, was warmer and more volatile than previously thought, according to a new study by researchers from the University of Copenhagen. The discovery may have an impact on future climate models, which the researchers claim are currently based on insufficient data. The study reveals that northern mid-latitudes (45 degrees north of the equator) saw summer temperatures averaging 27 degrees, and 15 degrees in winter. That's warmer than previous predictions by about two degrees – and more variable. "Additionally, there was four times as much CO2 in the atmosphere, compared to the industrial revolution in the 1900s and much higher levels than today," said Nicolas Thibault, an associate professor at the University of Copenhagen. "Our future summers will probably be even hotter and drier than has been predicted so far," he concluded.
An action plan for Africa's electricity sector
A new policy commentary by DTU researchers in the journal Science has posited a roadmap for the much-needed expansion and modernisation of Africa's electricity sector. International partnerships such as Sustainable Energy for All will play a crucial role if Africa's electricity sector is to meet the development needs of a growing population. Lead author Daniel Puig, a researcher at DTU, laid out four recommendations: a combination of supply-side incentives and subsidies should be introduced, the electricity sector's planning and management tools must be digitised, local production must accord with rules and supply for renewable energy, and local 'power pools' need to be strengthened and expanded through African-led international partnerships. The approach centres on a key World Goal: achieving universal access to reliable, sustainable and modern energy at an affordable price. This single goal is a prerequisite for achieving most of the other 16 world goals associated with health, the fight against poverty, pollution, opportunities for education and climate change.
6,000 km Arctic journey will throw new light on Greenlandic waters
The movement of water masses around Greenland has a huge effect on both the climate and sea life in the Arctic. Until now, ocean currents have been described using computer models, but data is lacking when it comes to our understanding of the ocean's interaction with the Ice Sheet. In August, a team of researchers aboard the inspection vessel 'Knud Rasmussen' set off on a 6,000 km sea voyage from Nuuk, along Cape Farewell and the east coast of Greenland, to investigate physical and chemical traces of the movements of ocean currents. They will also test for the DNA content in the seawater to assess which animals and algae are linked to the different water masses. The results from the trip will provide new knowledge about the melting of glaciers in Greenlandic fjords and bodies of water along Greenland's west and east coasts.
One small gene mutation – one giant leap for mankind
New research from Rigshospitalet has thrown light on why up to 2 percent of all men cannot produce sperm at all, meaning they will not benefit from any kind of fertility treatment. The new international study, involving researchers from 20 universities around the world, has found that specific gene mutations are responsible. Four participants in the large survey proved to be the key to understanding it all: "We found by chance four men who had mutations in a gene that proved necessary for the production of sperm. The gene that was mutated is called PNLDC1," said senior researcher Kristian Almstrup. This is the first time that mutations in the PNLDC1 gene have been described in relation to infertility. 'Variant PNLDC1, Defective piRNA Processing, and Azoospermia' is published in the acclaimed New England Journal of Medicine.
New drive to improve Denmark's reading ability
Good reading skills are key to learning, but approximately 15 percent of all 15-year-old Danes leave primary school with such weak reading skills that they find it difficult to take a higher education. A grant from the Novo Nordisk Foundation of 20 million kroner has made possible an ambitious four-year research project to develop a cheap and effective research-based reading program that will be tested in two rounds, each comprising a third of all primary schools in Denmark and approximately 16,000 students. The research will also examine how best to support the parents and teachers who aid children with reading. Professor Simon Calmar Andersen, head of TrygFonden's Child Research Center at Aarhus University, is leading the project in close collaboration with the Danish Agency for Education and Quality (STUK) and the municipalities of Aarhus and Norddjurs.
In future lockdowns you may be able to hug friends via the internet
In an innovative new project, researchers from the University of Copenhagen have announced plans for haptic technology that will replicate the experience of being hugged and caressed. The project, 'TOUCHLESS', is supported with EU funds and aims to create sensations of touch using ultrasonic waves and artificial intelligence. The hope is that it will benefit people who are unable to see each other physically, make digital gaming experiences better, and introduce new dimensions to online shopping – like being able to 'feel' the quality of the goods before making a purchase. The TOUCHLESS project, which will run over a four-year period, is a collaboration between researchers from University College London, the University of Copenhagen and the Public University of Navarre, as well as tech companies Ultraleap, SoftServe and Crowdhelix.