News
Local Round-up: All downhill for Copenhill as worn ski slope risks permanent closure
---
This article is more than 2 years old.
Hotel, holiday, camping and resort trades also face problems, as does Christiania, but there's good news for children, as a mega festival is hitting town this weekend!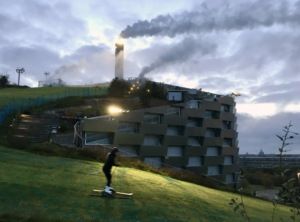 Unexpected wear and tear on Amager Bakke's ski surface may force the famous slope, designed by architecture firm Bjarke Ingels Group, to shut down from the autumn until 2024.
The surface of the ski slope has deteriorated alarmingly quickly. Renovation work will cost 9.5 million kroner and can be completed by 2024 – but the process is complicated by a dispute over liability between the Amager Bakke Foundation and insurance company Tryg, with whom it has liability insurance.
Liability spat
"Wear and tear has accelerated in recent seasons and the hill is now in such a poor condition that it will soon not be suitable for skiing and may pose a safety risk," wrote the Amager Bakke Foundation in June.
"However there is no agreement between the parties on the cause of damage and ultimate liability. Tryg has rejected the notification of the damage."
The Amager Bakke Foundation therefore expects the dispute to be settled by arbitration, which should be finalised in 2024.
Everything to lose
The stakes are high: if the foundation wins the case or a settlement is reached, the ski slope can reopen in 2024, but if it loses the case, the facility must close permanently.
Another potential spanner-in-the-works is the risk that temporary closure may lead to claims from the operator Copenhill for lost earnings.
Going off-piste for funding
In a last-ditch attempt, the fund is now appealing to the Amager Resource Center's five owner municipalities (Copenhagen, Frederiksberg, Tårnby, Dragør and Hvidovre) to grant an extra loan of 9.5 million kroner to replace the slope surface within four months. The five municipalities have already loaned the ski slope a total of 50.1 million kroner.
The Amager Bakke Foundation has been refused further donations from the Lokale- og Anlægsfonden, the Nordea Foundation and the AP Møller Foundation. Handelsbanken has also rejected a request for a bank loan.
---
Copenhagen gets nine new walk-in vaccination centres
Until August 26, Copenhageners can access drop-in vaccinations at nine new sites in the city. The offer is open to all over-12s who have not yet had their first jab. The will be located at: Blågården / Ågården, Lundtoftegade, Aldersrokvarteret, Mjølnerparken, Remisevænget, Folehaven, Sydhavnen, Hørgården, and Bispebjerg. Find the address and opening hours of your local pop-up vaccination site by clicking here .
Copenhagen hotel, holiday, camping and resort trade struggling to rebound
Overnight stays at hotels and holiday centres in Copenhagen increased by 125 percent in June compared to the same month last year. But that wasn't enough to return to pre-COVID-19 numbers. In fact there were 520,000 fewer overnight stays than two years ago – a decrease of 68 percent. Nationwide, the figure was a little less dramatic at 27 percent below pre-COVID levels. In the first half of the year 90 percent of overnight stays at campsites were Danes taking domestic holidays. Non-Danes still account for the larger percentage of hotel visitors, despite the sharp decrease in numbers over the past two years.
Desperate Christiania residents hold crisis meeting about Pusher Street
Around 300 Christiania residents attended a historically large meeting on Sunday to discuss how to remove the cannabis market from Pusher Street. Despite the turnout, no new ground was made in the debate, according to Klaus Naver, one of the initiators of a petition against the cannabis trade in Christiania. The only sustainable solution seems to be to legalise cannabis … a hard sell to politicians. Renewed efforts to stifle the trade follow the killing of a 22-year-old Christiania local who was shot at close range on Pusher Street on July 3. "There is a widespread concern that if Christiania closes Pusher Street, then the cannabis trade will spread to the surrounding neighbourhoods and lead to new players in the cannabis market – worse than those we have now," said Naver. About a quarter of those who have expressed support for closing the cannabis trade have done so anonymously for fear of reprisals from gangs.
Container terminal moves, making way for more Nordhavn housing
By & Havn and Copenhagen Malmö Port (CMP) have solidified plans to move the existing container terminal at Levantkaj in Nordhavn to Ydre Nordhavn in 2023. This will shorten the delivery distance for goods in the capital region, reducing transport emissions and traffic congestion. Today, Danish ports handle over 75 percent of imported goods to Denmark. "Copenhagen has always been a market town, and it's important that we help maintain the city's historical and business significance," said Anne Skovbro, the head of By & Havn. The total cost of the new container terminal is expected to be around 800 million kroner and cover around 165,000 sqm. The current terminal occupies 140,000 sqm. Once vacant, Levantkaj will be redeveloped into a sustainable residential area.
International children's festival visits Denmark for the first time
European children's event Big Bang Festival is visiting Denmark for the first time this weekend. Børnekulturhus Ama'r and festival founder Wouter Van Looy have joint-curated a program of 14 concerts, various installations and workshops, which will be held in the music square on Øresundsvej and surrounding venues. DJ Ras Money will be spinning records, Belgian Zonzo Compagnie will present an 'audiovisual experience' of 350-year-old music and accompanying artwork, and Body Rhythm Factory will perform an immersive live-band concert. The festival opens on Saturday 21 August at 10:00 with free coffee, snacks, a jazz parade and a speech by Franciska Rosenkilde, the culture mayor. Find out more on Børnekulturhus Ama's website
More young people than ever experience workplace discrimination
The percentage of young Copenhageners who experience workplace discrimination on the grounds of their gender, ethnicity, religion or sexuality has never been higher, according to the City of Copenhagen's Citizenship Survey of 3,433 people aged 18-29. More than a quarter of young people reported experiencing discrimination in the past year and, of those, 42 percent said it took place at work. In 2019, the figure was 34 percent. Those with a non-western ethnic background have the worst time, the study reveals. From 2019-21, incidences of workplace discrimination against young, non-Wwestern workers jumped from 32 to 44 percent.
Øresund Bridge switches to rainbow-lights for Copenhagen 2021
Until August 22, the Øresund Bridge's 203.5 metre-high towers will be lit with rainbow colours to celebrate Copenhagen 2021 – the eleven-day celebration that involves Malmö and Copenhagen jointly hosting WorldPride and Eurogames. The tower lighting will "help illuminate the strength of diversity, cross-border co-operation and everyone's right to love whoever you want on both sides of the strait", said John Alexander Sahlin, the communications manager at Øresundsbroen.