News
Homecoming in Skagen: Bluefin tuna back in force after five-decade absence
---
This article is more than 2 years old.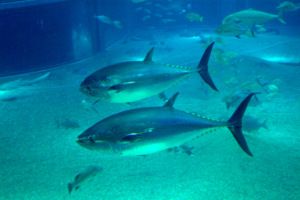 After a disappearance of  more than five decades, the bluefin tuna has re-emerged in Danish waters.
In recent years, the National Institute of Aquatic Resources (DTU Aqua), which is part of the Technical University of Denmark, has spotted a positive trend concerning the population of the species.
The tuna had been off radar since the 1960s, but since first being sighted in 2017, the count had risen to 116 in 2020.
Royal Welcome
A team of DTU Aqua scientists recently welcomed none other than Crown Prince Frederik of Denmark on board to help with the chipping of the fish.
With the help of the equipment that is now tagged onto the fish, scientists hope to get insight into their movements.
Directly after the chipping, the tuna were released back into the waters off Skagen.