News
National Round-Up: World's second most northerly island knows how the Chrysler Building felt!
---
This article is more than 2 years old.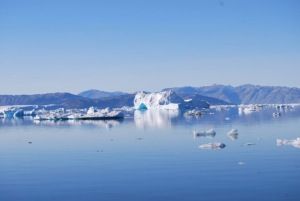 Must have been harsh for the Chrysler Building. Upon its opening in 1930, it became the world's tallest building … for all of 11 months. Not only that, but its record was taken by a neighbour: the Empire State Building.
Well, the Arctic island of Oodeaq knows that feeling! For the last ten years, it has held the record for being the northernmost island on Earth.
But that was before a pesky Danish geographer turned up to collect data with some Danish and Swiss colleagues for a study of life under extreme conditions.
During their research they discovered an isle approximately 780 metres away from Oodeaq.
Yes, further north and a neighbour!
Years of experience
Oodeaq has the Norsemen and their talent for exploring to thank.
After all, just like Eric the Red discovered Greenland some centuries ago, Morten Rasch came across the little island almost by accident.
And he could have easily missed it. It only measures 30 by 60 metres, according to the scientists.
Rasch, who heads the Arctic Station at the University of Copenhagen, has been a regular on expeditions in the region for 18 years.
Brasch and his colleagues are financially supported by a private Swiss fond.
____________________________________________________________________________________
­­­­House prices on the rise in Denmark
Since the beginning of the year, the price of an average house has increased by about 200,000 kroner, according to a BT analysis of a market index maintained by Boligsiden estate agents. By average, they mean 140 sqm and 2,375,800 kroner – up from 2,177,980 kroner at the beginning of the year. Economist Lise Nytoft Bergmann told BT she expects the curve to flatten by the end of the year.
Esbjerg to become home to Europe's biggest PtX facility
Swiss energy company H2 Energy Europe plans to invest a multi-billion-dollar amount into building Europe's largest PtX facility. Once it's running in 2024, it will turn green energy into hydrogen for land transport purposed. Clifford zur Nieden, the head of H3 Energy Europe, is convinced Esbjerg is the ideal spot due to its position on the coast of the North Sea. Once established, the PtX facility will create 200 to 300 jobs.
Denmark's green vehicle journey is a success story
Denmark's number of alternative fuel vehicles has risen by an average 67 percent every year over the last decade, placing it ahead of Nordic neighbours Sweden, Norway and Finland and sixth in Europe, according to an analysis carried out by British price comparison website Uswitch.com of European Alternative Fuels Observation data. Ten years ago, it had just 301 vehicles. Today it has 57,547. Making up the top five were Cyprus, Luxembourg, Ireland, Spain and Malta. The used data was collected by the European Alternative Fuels Observation within the last ten years. The Swiss Investment Bank UBS predicts that electric cars will account for 20 percent of all new vehicle sales by 2025.
Incident at diamond mine favoured by Danish pension firms is a catastrophe
Danwatch has reported how an incident in the world's fourth biggest diamond mine, Catoca in Angola, has turned the waters of the Tshipaka river a bright red. The mine is of interest to Danwatch because it has significant Danish pension fund investors.
New study reveals how thousands of Danes self-medicate with cannabis
After a study conducted in 2018 revealed that more Danes are favouring cannabis over pain killers and antidepressants, a more up-to-date study carried out by scientific magazine Harm Reduction Journal has reached similar findings. Respondents claim that cannabis has less side-effects than their actual medication.