News
Denmark is first to finance UN humanitarian air bridge to Afghanistan
---
This article is more than 2 years old.
Aid organisations in Afghanistan say they will stand their ground under Taliban rule … But they need support: the UN appeal to fund a humanitarian air bridge is a lifeline for those in vulnerable, hard-to-reach regions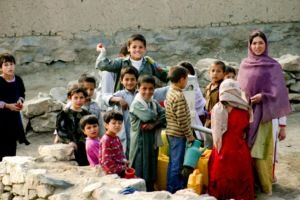 The Taliban takeover has severed international emergency supply routes to Afghans in desperate need of humanitarian aid.
Flights are suspended and borders blocked, but the UN is fighting to keep a travel corridor open for NGOs, relief workers and emergency aid to supply Afghanistan's hard-to-reach areas.
Deep uncertainty
"The situation in Afghanistan is deeply worrying. Humanitarian groups on the ground have made it clear they will maintain a presence in the country, but the Taliban's takeover has created deep uncertainty around the terms of emergency aid," explained the development minister, Flemming Møller Mortensen.
On August 30, the UN Food Program issued an emergency appeal for 189 million kroner to continue air operations in Afghanistan.
Denmark was the first country to respond with a donation of 20 million kroner – around 10 percent of the total appeal.
18.4 million Afghans already in need of aid
The timing is crucial: even before the Taliban took power, almost half of the population needed humanitarian aid due to drought, the corona pandemic, internal displacement and conflict.
With winter approaching, bringing average low temperatures well below freezing, the situation is expected to worsen.
"The UN flight program is urgent and incredibly important. We must help to ensure aid access and improve the security of the many dedicated relief workers in Afghanistan," said Mortensen.
The UN Humanitarian Air Service (UNHAS) is operated by the World Food Program and transports relief workers and conducts evacuations in 15 destinations in Afghanistan.
Quarter of a billion kroner donated
Denmark made a previous donation on August 17 of 100 million kroner to the United Nations High Commissioner for Refugees (UNHCR), the United Nations Humanitarian Fund and the International Committee of the Red Cross (ICRC).
So far, Denmark's humanitarian support for the Afghanistan crisis totals 260 million kroner.
"Action saves lives. Denmark has today shown the way as the first country to step in to help the World Food Program," said David Beasley, the head of the World Food Program.
"The Danish contribution will support the entire humanitarian community and enable about 160 humanitarian organisations to continue their life-saving work."