News
Parliament's 2022 budget proposal outlines foreign aid reform
---
This article is more than 2 years old.
Folketinget has released a 2022 budget proposal that seeks to scale back spending and includes a new foreign aid manifesto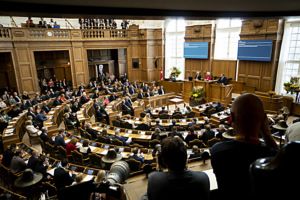 In the 2022 budget proposal, Parliament has outlined a comprehensive reform of Danish foreign development aid.
More funds will be allocated to climate-friendly projects and migration initiatives in support of "fragile states".
30 percent of aid fund for green projects
Speaking at a press conference, the minister for development, Flemming Møller Mortensen, outlined the green ambitions of the budget.
"Denmark must strive to be at the forefront of climate diplomacy and green development policy. With our proposal for the Finance Act 2022, we therefore set the goal that 30 percent of aid must be green by 2023," he said.
"At the same time, the majority of climate-based aid will go to climate adaptation projects."
Mortensen highlighted that preparing for climate instability was a key consideration for developing countries, the UN and civil society.
A secure and sustainable world
In June, a political majority agreed on a new development policy strategy, 'Fælles om Verden', which stipulated that Denmark's budget distribution must "contribute to a more secure and sustainable world".
Therefore, in 2025, 3.5 billion kroner more will be allocated to "efforts within migration and in fragile states".
By contributing to stability abroad, the government aims to "ensure people can build a future in their home country, rather than having to flee to Europe".
The Foreign Ministry summarised the foreign development strategy as "a fight for climate, nature and the environment, along with the creation of hope and future opportunities for people in fragile countries and in areas close to crisis and conflict".