News
National Round-Up: Residents at nursing homes given green light to get third shot
---
This article is more than 2 years old.
Infection rates are slowly crawling back up in elderly homes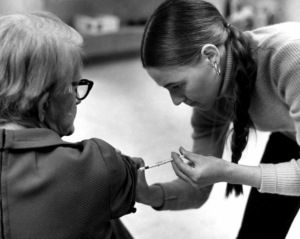 The Sundhedsstyrelsen health authority has confirmed that a third vaccination shot can now be offered to residents at Denmark's nursing homes.
A new vaccination program will most likely start in Week 37.
Sundhedsstyrelsen has announced its plans following a request from the European Medicines Agency, which has been working in collaboration with the European Centre for Disease Prevention.
Sensible to vaccinate
Given how vulnerable elderly people are, it makes sense to further reduce the risk, according to Helene Bilsted Probst from Sundhedsstyrelsen.
Furthermore, the infection rate in nursing homes has also been rising of late, she added.
Netherless, the survival rate is better – for example, it was recently reported that the former foreign minister, Uffe Ellemann-Jensen, would have probably died of corona had he not been vaccinated.
____________________________________________________________________________________
Naturens Uge wants to connect children with nature
According to a study recently published by Epinion in collaboration with the Danish Nature Conservation Organisation, children often lack basic knowledge about nature. Hence daycare centres and schools are this week seeking to improve the way children relate to wildlife and nature topics. During Naturens Uge (nature week) participating institutes will take the youngsters out into the great outdoors to explore.
More homeless on the streets than in 2009
High rents and an overall lack of help from the municipalities have been blamed for the increasing number of homeless people over the last 50 years, according to a recent study conducted by Vive. Older people are particularly vulnerable. Over the last decade the number of homeless people over the age of 60 has increased by 76 percent.
Lowest occurrence of Hepatitis C for 20 years
Statens Serum Institut (SSI) has reported the lowest number of Hepatitis C cases this century. Numbers peaked at 425 in 2007, but last year there were only 165. SSI attributed the improvement to improved treatment and less intravenous self-medication. It has been obligatory to report an infection with Hepatitis C to the health authorities since 2000.
Supreme Court upholds ban of street gang
On September 1, the Supreme Court upheld the ban of the street gang Loyal to Familia. Since its foundation in 2012, members of the gang have been sentenced to a total of 1,409 years in prison.
Illegal trawl-fishery in Danish waters
An investigation carried out by TV2 and research collective NOIR reveals that an alarming number of fishing boats are turning off their radar and entering Danish waters. It reports that 30 Dutch boats intentionally turned off their GPS signals while trawl-fishing in Danish waters, and local fishermen from north Jutland now intend to sue the unwanted Dutch guests. Many scientists argue that trawlers do immense harm to the seabed and should be banned.