News
Danish architect to design utopian city in the US desert
---
This article is more than 2 years old.
Former Walmart CEO Marc Lore has enlisted Bjarke Ingels to help construct a 2.5 trillion kroner sustainable city named Telosa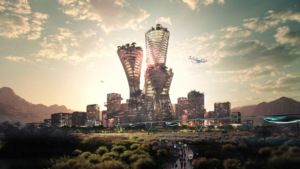 Picture a city that is as diverse as New York City, as safe and clean as Tokyo, and embracing welfare and sustainability just like Stockholm. 
Now imagine that city being in a desert … in the US!
It may sound like something out of Thomas More's classic, but it's what billionaire and former Walmart CEO Marc Lore has envisioned for the future – for a city named Telosa.
And assisting him in his ambitious endeavour will be renowned Danish architect Bjarke Ingels, who is known for designing Google's headquarters, Superkilen, Amager Bakke and, more recently, the Oceanix City floating city project.
"Our vision is to create a new city in America that sets a global standard for urban living, expands human potential, and becomes a blueprint for future generations," the City of Telosa wrote on Twitter.
Taking its name from the ancient Greek word 'telos', which means 'higher purpose', Telosa is expected to have a population of 5 million people by 2050. 
READ ALSO: Floating cities of the future
A thing of Lore
Currently, the project organisers are on the hunt for a suitable deserted and affordable plot of land (60,000 hectares), with potential locations being scouted in arid areas of Utah, Idaho, Nevada, Arizona and Texas.
It is estimated the project will cost somewhere around 2.5 trillion kroner, and the plan is to obtain funding from private investors, philanthropists and state grants.
The initial phase of the project is expected to be complete by 2030 and offer housing for 50,000 people, who will be self-sustained using green energy and recyclable water. Pedestrians and cyclists will be prioritised.
Moreover, the city is to be designed in a manner that will grant its citizens access to work, school and other facilities within 15 minutes of their homes.
"We are going to be the most open, most fair and most inclusive city in the world," Lore said in a promotional video (see below).