News
Denmark set aside huge sum to aid Afghanistan crisis
---
This article is more than 2 years old.
Government has earmarked a total of half a billion kroner for humanitarian efforts in the war-torn region so far this year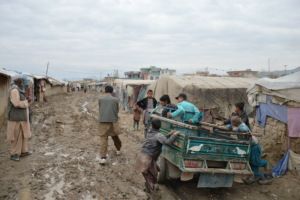 Following Afghanistan falling into the hands of the Taliban, the beleaguered country has tumbled into a dire humanitarian situation.
The government hopes to help alleviate the crisis by earmarking 240 million kroner for various UN humanitarian programs operating in the region.
"It's heart wrenching to follow the development in Afghanistan – a situation that only looks to worsen in the coming months as winter approaches- So we must keep helping the Afghan people," said development minister, Flemming Møller Mortensen.
Mortensen, who is in Geneva to take part in a UN conference relating to the crisis in Afghanistan, underscored that it was critical that the international community stand together and dig deep to aid the situation.
It is estimated that upwards of 11 million Afghans will be in an acute need of aid in the last months of the year and the UN has requested nations donate 606 million USD to make that happen.
READ ALSO: Denmark paying UK to take its Afghan interpreters 
Focusing on women and children
Of Denmark's contribution, 36 million kroner will go to the UNFPA, another 36 million to the UNICEF and 85 million to Danish organisations already engaged in the country. 
The remaining funds will be set aside into a reserve that will be spent as specific requirements come to light.
"With the new Danish contribution, the UN and Danish humanitarian civil society organisations will be able to save lives in Afghanistan and in neighbouring countries were Afghans have fled," said Mortensen.
"From the Danish side, we have a particular focus on protecting women and girls, covering the huge humanitarian needs for clean water and basic health services – such as the treatment of malnutrition and vaccinations in small children."
This latest aid package means that Denmark has earmarked a total of half a billion kroner for humanitarian efforts in the war-torn country so far this year.