News
Copenhagen ranked fourth on world's best cities list
---
This article is more than 2 years old.
After not being ranked at all in 2019, Copenhagen powered up into fourth in the world, according to Time Out Magazine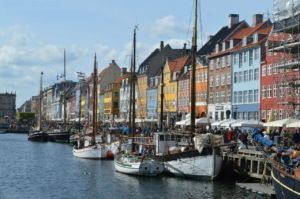 Not that we're particularly surprised about it, but Copenhagen was just recently featured among the world's ten best cities in the world according to the International Time Out Magazine.
Now, while this description is as striking as it is vague, the survey among 27,000 international city dwellers certificated Denmark's capital an outstanding overall performance.
Especially regarding environmental issues and, who would have thought, bicycle infrastructure.
Going back to the ever-used narrative of Danes being the happiest people on earth, participants of the survey put the emphasis on the city's relaxed vibe.
"General quality of life is high here, and no doubt the city's many innovative green initiatives help put locals' minds at ease: 60 percent of us think of the city as 'green'," wrote International Time Out Magazine.
"But there's so much more to Copenhagen than hygge and radical dual-purpose energy plants like CopenHill. In fact, 82 percent of residents find it easy to discover 'new and surprising things' in the city – and we can all raise a glass of aquavit to that."
READ ALSO: Copenhagen named among most luxurious cities per km²
Many behind, a few ahead
Even though Copenhagen was pipped by rival Amsterdam, Denmark's capital outscored its Dutch neighbour in the categories 'green' and 'sustainability'.
Again, old news, if you consider the multitude of parks and nature spots in midst of the city – the City Lakes, Fælledparken, Frederiksberg Have, to name a few.
In the wake of what felt like 10 years of lockdown, it made sense that Times Out Magazine put the emphasis on each city's space for community.
And with its array of cafés, bars, and restaurants, it is no wonder that Copenhagen performed well.
READ ALSO: Copenhagen ranked the best cycling city in the world
From Underdog up to the top
In the previous Time Out Magazine ranking from 2019, Copenhagen didn't even crack the top 48.
2019's hot list was led by New York, which fell behind Copenhagen in the latest list, ranking fifth.
In this year's edition, San Francisco, Amsterdam, Manchester, Copenhagen and New York, while the top 10 was rounded out by Montreal, Prague, Tel Aviv, Porto and Tokyo.