News
International Citizens Days: The one-stop event to get all your logistical questions answered and more
---
This article is more than 2 years old.
Put September 25-26 in our diary to source all the information you want to know about housing, careers, setting up a business, tax, hobbies, sport and more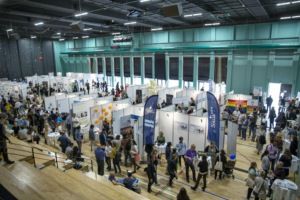 Nobody expected it to be so busy at the first edition of International Citizen Day at DGI-Byen on 21 September 2019.
Spawned from the Expat Fair, which had for over a decade done an able job at welcoming new arrivals to the capital with handshakes and pancakes every autumn at City Hall, there were probably cynics at the stands representing organisations from all Denmark who were only expecting a few hundred to turn up.
But after a slow first hour, the deluge happened as tens, and then hundreds, and then thousands descended on the sports centre hall to source information on housing, careers, setting up a business, tax, hobbies, sport and more.
The smiles at the stands said it all. "It was non-stop … no breaks for four hours," one of the participating organisations told CPH POST.
Friday: First day is focused on jobs
A second edition followed in 2020, but in virtual form due to the pandemic, so this September 24-25 will be the first opportunity for the organisers at International House Copenhagen to discover whether that heady day in September 2019 was just a fluke or the result of them finding a formula to satisfy thousands.
They're back with another barnstorming line-up of over 60 participating organisations, this time called 'International Citizen Days' thanks to a Friday addition focused on employment.
On the opening day, the mayor of employment and integration, Cecilia Lonning-Skovgaard, will give a welcome shortly after the doors open at 16:00.
And then until 20:00, experts from recruitment agencies, the tax authorities, employee associations and trade unions will be at hand to answer all your questions.
Learn about the inescapable codes of the Danish workplace culture, or the country's labour model, and don't forget to network!
Saturday: Second day dedicated to getting the most out of life in Denmark
The main event, though, is Saturday, and from 10:00 the hall will start filling up with thousands interested in finding out more about the country they now call their home.
This time the mayor of culture and leisure, Franciska Rosenskilde, will give the welcome, ahead of the 60+ stands opening, offering opportunities to find out more about housing, culture, sport, language learning, law and banking. Additionally, there will be countless talks, debates and activities taking place all day.
In 2019, the dancing and sporting showcases did not stop all day, as the hall hustled and bustled with activity, and this year will be no different.
While the event officially ends at 15:00, the fun will not stop, as an after-party is planned at a nearby culture house.
Remember: while the event is free to attend and easy to find (it's practically next door to Copenhagen Central Station; leave via the platforms, not the concourse), it is important you pre-register here.
Find out more about the event here.