News
Continuing the fine tradition of cussing Danish sporting champions
---
This article is more than 2 years old.
Clara Tauson rains down the expletives in a post-match interview following her triumph in the Luxembourg Open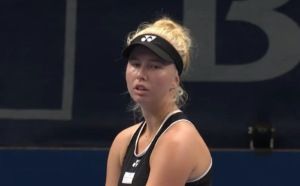 "What the shit's going on," wondered tennis player Clara Tauson at the winner's microphone just moments after triumphing in the Luxembourg Open yesterday.
Not only did the 18-year-old underline her credentials by winning the second WTA tournament of her year (and season), but she also confirmed her undoubted Danishness by swearing in conversation with the media.
Sports stars who like to curse
For most sports stars, audibly cursing/cussing is an absolute no-no, but this year the Danes have been painting the courts, lakes and velodromes blue with their foul language.
Olympic sailing champion Anne-Marie Rindom let out a relieved "Fuck, that's so cool" after claiming gold, while pursuit cyclist Frederick Madsen was heard to bellow "Fuck them" about the British team at the Tokyo games just moments after he had poleaxed one of them on the track.
But it's not really swearing!
Still, there's something refreshing about it. It wasn't long ago that British sports stars were reminded to speak the Queen's during BBC interviews, or else there'd be hell to pay.
And in Denmark, words like 'shit' and 'fuck' aren't really swearing. When Rindom apologised moments later to DR viewers for swearing, it was for saying 'For helvede', which in English translates relatively timidly as 'for hell'.
Confetti shower
In Tauson's case, her exasperation at the microphone, following a 6-3, 4-6, 6-4 defeat of Latvia's Jelena Ostapenko, was because she was drowned in confetti, she revealed to TV2.
The win moves the unseeded Dane, who was incidentally the last player to beat US Open champion Emma Raducanu, up to number 52 in the world.
On her way to victory in Luxembourg, she beat the third, fourth and fifth seeds, and it will surely only be a matter of time before she herself becomes a potential scalp for aspiring players.