News
International Round-Up: Danish minority party SSW tipped to win seat in German parliament
---
This article is more than 2 years old.
In other news, Mette Frederiksen has sided with the US over Aukus, and Nigeria and Denmark are fighting piracy in the Gulf of Guinea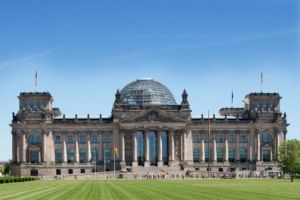 The Southern Schleswig Holstein Voters' Association – a party of Danish and Frisian minorities – can expect to win a seat in the Bundestag, the German parliament, reports ARD.
Stefan Seidler, the SSW's leading candidate, would be nominated to sit there, and he wants to "offer Scandinavian solutions in Berlin and thus strengthen the region", according to German newspaper Der Nordschleswiger.
Formerly a councillor
Formerly a member of Flensburg municipal council (where he was born), he was a Radikale candidate in the European elections before becoming the national chairman of SSW in 1998. 
The party expected to win the seat if 50,000 votes are obtained. If the SSW manages to get another mandate,  it would logically be taken by the second name on the list, Maylis Rossberg.
Permanent presence in local institutions
The last time the party fought for a national election was in 1961, when its ideology was still in its infancy. At that time it wanted to attach the territories north of the Eider to the Danish Kingdom.
Nevertheless, the SSW has managed to ensure a presence in the regional chamber for over 60 years. This longevity is due to the special status of the party's members as representatives of local minorities – meaning it is unaffected by the minimum 5 percent of the vote requirement.
____________________________________________________________________________________
Danish pharm company testing migrants on Greek island
Danish pharma company PentaBase is testing migrants for COVID-19 at the recently established Zervou camp on the Greek island of Samos. Using extra-sensitive and rapid salivary PCR tests, the aim is to find out in advance the proliferation of COVID-19 variants that are being imported into Europe. "We know that migrants are particularly vulnerable people," explained Professor Ulf Beck Christensen from PentaBase, which is financing the operation in full, according to DR. Aminat Makhauri, a project manager at PentaBase, added: "The camp officials have been very helpful and are already interested in knowing if we can help on other islands."
Mette Frederiksen sides with the US over Aukus
Whilst attending the UN General Assembly in New York, Danish PM Mette Frederiksen expressed her support for the Biden Administration following criticism of Aukus, the recent US security pact with the UK and Australia, which scuppered France's submarine deal with Australia. "I don't understand it at all. I see Biden as very loyal to the transatlantic alliance. There is no doubt that he is moving US foreign policy away from a very isolationist position," she said according to AFP. Nevertheless, a majority among European politicians have expressed their solidarity with Paris.
Nigeria and Denmark fight against piracy in the Gulf of Guinea
During the recent UN General Assembly, the Danish foreign minister, Jeppe Kofod, met with his Nigerian counterpart, Geoffrey Onyeama, to discuss how to combat criminal activities on the west African coast. "We are very concerned about the safe movement of our ships at sea. We are investing heavily in this area," explained Kofod according to media sources. According to Onyeama, Nigeria and Denmark have a "win-win relationship" and are keen to further develop import-exports. "Denmark has been very supportive in the area of humanitarian aid in the north-east of the country," he said.
Singapore admits to viewing Denmark as something of a role model
Often alongside one another in the top ten of various country rankings, it's no surprise to learn that the Singaporean Ministry of Health often seeks inspiration  from its Danish counterpart, an official admitted in mid-September. Each has a population of about 5.8 million and an average vaccination rate of 77 percent. The Danish health authorities offered the Pfizer vaccine to 12 to 15-year-olds in July and Singapore is expected to follow suit.
Strengthening Nordic maritime safety
The defence minister, Trine Bramsen, has signed the necessary protocol to strengthen Nordic defence co-operation in line with the NORDEFCO 2025 program. The focus is very much on maritime supply routes such as the Kattegat, Skagerrak and the North Sea. Together with her Swedish and Norwegian counterparts, Peter Hultqvist and Frank Bakke-Jensen, Bramsen noted: "This operational planning will improve our ability to act in case of crisis and conflict." 
Protecting the EU border important, contends minister
Denmark recently sent 15 km of barbed wire to Lithuania to help it protect its borders from migrants seeking to enter the EU, and the integration and immigration minister, Mattias Tesfaye is adamant this should be a huge priority for the 27 member of the union. "Border fences must be an integral part of EU policy," he said during an interview with Berlingske and Jyllands-Posten. "It is a policy that should be driven by a general desire of the government to strengthen the EU's external border and the desire to limit the influx into Denmark." The government, which has also helped some of the Balkan countries, plans to donate 33 million kroner to strengthening the EU border with Turkey. 
Queen and crown prince to attend business delegation visit to Germany
Crown Prince Frederik and his mother, Queen Margrethe, will join a Danish business delegation travelling to Berlin and Munich from November 10-13. The vist will focus on climate, energy, health, food and sustainable production, which are priorities on the political agenda and have significant business potential for Danish companies. Germany receives 14 percent of Denmark's total exports, making it Denmark's largest market.
Green-minded business delegation to visit Iceland next week
Crown Prince Frederik, the foreign minister, Jeppe Kofod, and 11 Danish business organisations will visit Iceland from October 12-13 to strengthen business co-operation between the two countries in the arena of the green transition. "Action is needed by both politicians and businesses if we are to achieve our climate goals. We hope to open doors for green Danish companies in the Icelandic market," explained Kofod.