News
Extra Roskilde tickets added so more youngsters can see Dua Lipa and co
---
This article is more than 2 years old.
With 75,000 of the 80,000 allocation already sold, after the majority chose not to get a corona refund, the organisers have earmarked an extra 5,000 exclusively for under-25s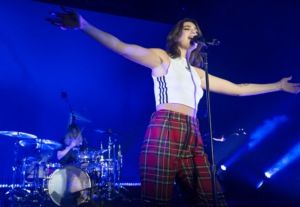 The 2022 Roskilde Festival yesterday confirmed that the British singer Dua Lipa is its first headliner.
Lipa, whose first language is in fact Albanian, has established herself as one of the biggest female pop stars on the planet over the last four years – a quality that was confirmed by two Grammys in 2019.
Joining her on the poster are Danish songstress Jada and US rapper Tyler, the Creator, both of whom were due to play at the 2020 and then 2021 editions.
In total, the festival has announced 23 names for what will be its 50th anniversary festival … third time lucky.
US band Haim and British singer Arlo Parks are also signed up. 
More tickets for youngsters
In light of how many young people have missed the opportunity to experience the festival in 2020 and 2021, an extra 5,000 full festival tickets will be available – exclusively for under-25s.
The extra allocation takes the number up to 85,000.
"This is because 80 percent of Roskilde Festival's guests come to the festival for the first time when they are under 25 years old. Therefore, the festival wants to take into account the youth cohorts who in 2020 and 2021 lost the opportunity to go to Roskilde Festival for the first time," explained the festival. 
Some 75,000 people already have tickets. Instead of asking for a refund when it was cancelled in 2021, they instead held onto their tickets.
While the spare tickets will go on sale from tomorrow at 12:00, the 5,000 extra tickets will not go on sale until November 30.