News
International Round-Up: No corona test result necessary for unvaccinated visitors to enter Denmark from October 25
---
This article is more than 2 years old.
However, one is required within 24 hours of arrival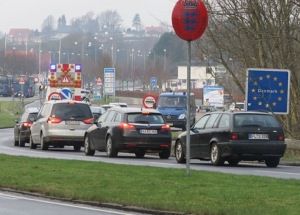 From October 25 it will be possible for unvaccinated residents of the EU and the Schengen area to enter Denmark without a valid COVID-19 test.
The only requirement for entry is to get a test within 24 hours of arriving.
Shake-up on the Swedish border
The news is particularly welcome for Swedes who commute to work in Denmark.
Along the Danish-Swedish border, the police will remove the border control in place since March 2020 and resume random checks.
No more governmental advice
Meanwhile, there will be no more governmental advice regarding which countries are safe to travel to.
"We will no longer advise against travel when you have been vaccinated. This is a huge opportunity for Danes to go out into the world again," commented the foreign minister, Jeppe Kofod.
---
State passes on more vaccines: some for profit, others for philanthropy
The government has sold 200,400 doses of the Moderna vaccine to Australia and donated 250,000 Johnson & Johnson doses to Rwanda. The doses were surplus to requirements, but also reflect that Denmark is no longer offering Moderna to under-18 due to concerns it increases the risk of heart inflammation. The vaccines arrived in Australia last month. 
EU to open office in Greenlandic capital to check of superpowers
The EU has confirmed it will shortly be opening an office in Nuuk, the capital of Greenland, in the interest of contributing to a "peaceful and sustainable" Arctic. Political experts interpreted this as a move to prevent a power struggle between the United States, Russia and China in their  hunt for resources. Greenland is rich in minerals and fossil fules. Additionally, as its ice melts, new shipping routes will open up. "There are large nations fighting for power in that area, and the EU therefore has a natural interest in making itself relevant in the Arctic," commented TV2 correspondent Divya Das.
Danish PM pays fruitful visit to India
Mette Frederiksen visited India last weekend to meet Indian PM Narendra Modi, Indian President Ram Nath Kovind and its foreign minister, Subrahmanyam Jaishankar. She described it as a meeting to strengthen political, economic and commercial relations that represents "a great potential for Danish companies and exports", which will accelerate the green strategic partnership that Denmark and India entered into in September 2020 in the run-up to COP26.
Views of youngsters more important ever, says ministry
The Development Co-operation Ministry and the Danish Youth Council will bring together 14 young Danish and African volunteers every quarter to get their views on the future. "The future of the world is in the hands of young people who will have to live with the long-term consequences of climate change and the COVID-19 pandemic," explained the relevant minister Flemming Møller Mortensen. "It is crucial to involve them in the decision-making processes."
Supporting the media in Moldova with education program
Danish non-profit International Media Support, with help from the Danish state, has set up a program to support the media in Moldova. It will provide 1.5 million kroner with the aim of promoting the freedom of expression and fighting disinformation. The program's main focus is developing local media capacities and training journalists in investigative reporting. The foreign minister, Jeppe Kofod, met with counterpart Nicu Popescu to discuss how "a free and independent media is the cornerstone of any democracy".
Denmark involved in ensuring the Iraqi elections are free and fair
The foreign minister, Jeppe Kofod, welcomes Denmark's participation in the Iraq parliamentary session for the Immigration and Citizenship Bill and participation in the Independent High Electoral Commission of Iraq, which provides substantial resources to support free and fair elections. Denmark got involved in response to distress calls from Iraqis who considered international monitoring to be a prerequisite for electoral legitimacy.
Government earmarks substantial aid for Syrian refugee communities 
In the budget bill for 2022, the government announced aid of 3.5 billion kroner to help the estimated 1.5 million Syrian refugees living in communities in Jordan and Lebanon. The development minister, Flemming Møller Mortensen, visited the countries last week to meet with the leaders of businesses that Denmark helped to set up there, as well as residents in various camps. The Danish funding is mainly spent on health, education, employment and humanitarian work "so that the Syrian refugees can have hope".
Extra 100 million kroner for Greenland
The agreement of the EU budget for the period 2021-2027 guarantees an investment of 1.7 billion kroner into education and green growth in Greenland, which is 100 million kroner more than in the previous budget. For three years Nuuk, Copenhagen and Brussels "have worked closely together to ensure the best possible outcome for Greenland", said the foreign minister, Jeppe Kofod.
Crown Princess Mary visits Vilnius to celebrate a century of relations
On September 30 and October 1, Crown Princess Mary visited Vilnius to celebrate the 100th anniversary of diplomatic relations between Denmark and Lithuania. Danish F-16 fighter jets performed in an air show, while Princess Mary opened an exhibition, 'Awakening of Nations', at the Vytautas Kasiulis Museum where more than 40 works from the Golden Age of Danish art are on display.