Things to do
Autumn Holiday 2021: Towering over the forest canopy
---
This article is more than 2 years old.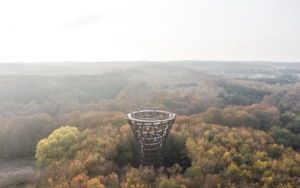 Forest Tower 
Skovtårnsvej 1, 4683 Rønnede; open daily 10:00-18:00; under-3s free adm; under-7s 65kr, over-7s 150kr, climbing park 150-350kr; campadventure.dk
It looked like something out of a fairy-tale when it was announced several years ago, but Camp Adventure's 45 metre-high forest tower, complete with a spiral walkway, quickly became a reality when it opened, welcoming 2,500 people on its first day.
Set in the beautiful Gisselfeld Klosters forest, 95 metres above sea level  and some 70 km away from Copenhagen, on a good day you can see much further from above the forest canopy – to Sweden and beyond!
Like Phileas Fogg
In fact, at the top of the tower, the direction and distance of many, many famous cities is marked, as you take a 360 degree tour around the world.
Nearer to the tower, which costs 150 kroner to climb and is open from 10:00 every day, enjoy an awe-inspiring view of hills, meadows, lakes, wetlands and streams.
Climb like Spiderman 
And if climbing the tower isn't enough – the distance of the walk, from the camp entrance, up the tower and back again, is a healthy 3.2 km – there's also a challenging climbing park within the forest. 
To get there by car, take the E20 and E47 from Copenhagen, or via rail, take a regional train to Næstved Station, from where the 630R bus will take you to within a kilometre.