Things to do
Autumn Holiday 2021: At Holger and Hamlet's hood
---
This article is more than 2 years old.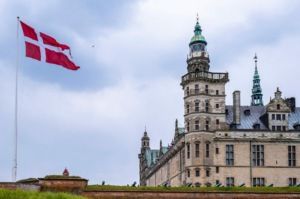 Kronborg Castle
Helsingør; open daily 10:00-17:00 until Oct 24, closed Oct 25, from Oct 26: open Tue-Sun 11:00-16:00; under-18s: free adm, over-18s: 125kr adults
It's easy to spot Kronborg Castle once you're in Helsingør. Its dreamlike turquoise spires and sandstone columns tower over the narrow promontory separating Denmark and Sweden. 
Here, at the closest point, the Swedish coast is just 4km away.
A rich history to explore
In the 1500s, international relations were a little frostier than today, and the Swedish-facing side of Kronborg was bristling with artillery.
Nevertheless, in 1658 the Swedes invaded Kronborg, ransacking it of art and other valuables. In response, the very-pissed-off Danes built huge new ramparts and a more advanced line of defence – which can still be seen today – and Kronborg became the strongest fortress in Europe.
The site has done various stints as a prison, royal residence and military base. It's about as majestic as classic Danish architecture gets and is well worth a day-trip as one of the three (technically five, but two are in Greenland) UNESCO world heritage sites in Denmark.
To be or not to be
Incidentally, it's also the setting of Shakespeare's Hamlet, though Horatio's description of the view from Kronborg – which "puts toys of desperation into every brain that looks so many fathoms to the sea and hears it roar beneath" – paints a bleaker picture than modern visitors can expect.
Today, the castle is home to special exhibitions, the latest being 'Jim Lyngvild's Royal History at Kronborg Castle', which runs until November 14. Visitors can catch the royal retrospective, explore the rooms, complete with original furnishings, and wander the wind-battered military grounds.
If you dare, descend below the castle into its network of gloomy tunnels that house the famous statue of sleeping warrior, 'Holger Dansk'. Legend has it he will awaken when his country needs him.