Things to do
Autumn Holiday 2021: Get it on with T Rex
---
This article is more than 2 years old.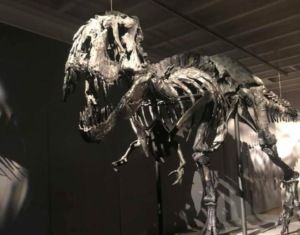 King of Dinosaurs
ongoing, ends Dec 31; Natural History Museum of Denmark, Oster Voldgade 5-7, Cph K; 50-105 kroner, snm.ku.dk
Since vacating his residency at the Museum of Naturkunde in Berlin, where he had been the guest of honour for four years, the world's best preserved Tyrannosaurus Rex fossil has been at the Danish Natural History Museum for several months now.
But don't take him for granted. Visit Tristan Otto before he departs for feeding grounds new on December 31.
Standout projections 
All visitors to the museum are greeted with an audio-visual reception that takes them into a densely-wooded area, located in what is now the US state of Montana, where Tristan Otto's skeleton was discovered in 2012.
Projected coniferous imagery creates a mysterious, almost nightmarish mood that stays with you through dark corridors until you finally come face-a-face with Tristan Otto.
As you make way to the 3.60 metre-high fossil, you learn about the rivals and prey of Tristan Otto, often materialising as exhibits or projections that include fully-preserved skeletons, claws and other contemporary witnesses.
One-on-one time with Mr Rex
It is undoubtedly an experience unlike most exhibitions you have visited before – however, you might want to freshen up on your background knowledge about the Cretaceous Age to get the most out of the experience.
When you book a ticket you also choose a timeslot to meet Tristan Otto – it's a date you won't forget in a hurry, and if he asks you to buy the drinks, don't hesitate for a second. After all, they can sense fear, can't they?
Mine's a double … and the drinks are on you.