Things to do
Autumn Holiday 2021: I got chills, they're terrifying
---
This article is more than 2 years old.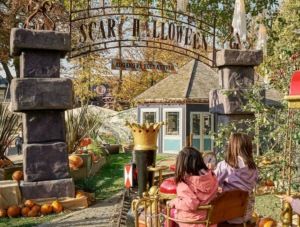 Halloween at Tivoli
Vesterbrogade 3, Cph V; open Oct 14-Nov 7, Fri-Sat 11:00-23:00, Sun-Thu 11:00-22:00; entry: 135kr, entry with unlimited rides: 380kr; tivoli.dk
There's an orange hue to the Tivoli trees in autumn, and in recent years the fallen foliage and close to 2,000 straw bales have perfectly complemented the numerous pumpkins, transforming the themepark into the ultimate destination to enjoy Halloween.
Who knew this Irish-American celebration would penetrate the mindset of the Danes so quickly, but every autumn holiday thousands descend on Tivoli for seasonal comfort food, thrills and sheer terror.
Terrific for toddlers
But don't worry: whilst most of the budget is spent terrifying the teens and tweens, there's plenty for all age groups to enjoy, starting with regular visitor Rasmus Klump.
Along with his faithful gardener Flora and the Pumpkin Man, he's on stage every day during the Tivoli Halloween season, while his playground is a godsend for playful tots who like to explore, boasting suspension bridges, crawler pipes and lookout towers galore.
Elsewhere there are plenty of age-suitable rides, from the Little Ghost Train and Halloween-decorated Vintage Cars to the Witch Carousel. And look out for the monsters' parade, as all the ghouls walk past – on their best behaviour in anticipation of the evening ahead.
All of that malarkey will make them hungry, and fortunately they're well catered for with Halloween waffles, roasted almonds and spooky cream buns. It will beat any feast Gryffindor devoured after winning the Hogwarts Cup. 
Terrifying for teens
Slightly older children are entrusted with knives, but no, we haven't got to the grizzly bit yet.  At the foot of the Mill on the Lawn, it's time to unleash your creativity and cut your own jack-o'-lantern. 
Let's hope there aren't any accidents, as we wouldn't recommend 'The Haunted', Tivoli's very own makeship hospital, which can be found in the caves under the rollercoaster.
Of course, we blame Lars von Trier for this nation's unholy obsession with spooky hospitals, and a visit to 'The Haunted' is like encountering the afterlife: restless souls of operations and experiments gone wrong await.
But if Villa Vendetta sounds like the holiday retreat you'll need after that, forget it. The former/current residents of the haunted mansion will greet you in the dark and only let you leave once you've been probably terrified.