News
National Round-Up: Socialdemokratiet wins 2021 School Election
---
This article is more than 2 years old.
Meanwhile, Britta Nielsen's children are given an extra six months in prison, and new EU fishing rules cut Danish cod quota by 88 percent.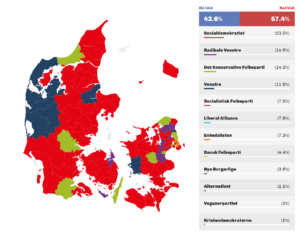 Socialdemokratiet has won the 2021 School Election with 23.5 percent of the vote.
The School Election is a three-week teaching course for grades 7-9 that mimics a real election campaign. Students form parties, study democracy and key political issues, and participate in debates.
The course culminates with a 12-party 'election' in which students choose the party they believe should lead the country if they were eligible to vote.
Some 551,578 students participated in the 2021 election, which was organised by the Ministry of Children and Education and Parliament in collaboration with the Danish Youth Council (DUF).
Red agenda fares well across the board
Youth researcher Jonas Lieberkind from DPU, Aarhus University, has followed the election decision closely.
"The Socialdemokratiet victory covered a wide demographic. In general, the red agenda has really gained momentum among young people. As well as Socialdemokratiet, SF, Radikale and Enhedslisten saw good support," he said.
Growing support for conservative policies
Konservative came in third place – a result that surprised Lieberkind. "It's remarkable that support for Konservative and Nye Borgerlige was so strong. It reveals a fundamentally conservative political attitude among several young voters, which was also reflected in the most popular party policies," he said.
Harsher punishment for violence and abolishing inheritance tax were voted among the top five overall policies.
Magnus Von Dreiager, the chair of Konservative Youth (KU), welcomed the result: "It's great to see how many young people are backing Konservative policies. It bodes well for the future."
This is the fourth time that a School Election has been held since its introduction in 2015.
See all regional and local election results at skolevalg.dk
---
High Court gives Britta Nielsen's children longer prison sentences
Britta Nielsen's three adult children have been found guilty of stealing close to 51 million kroner and sentenced to further time in prison by the Eastern High Court. The ruling extends all their previous sentences by six months. Samina Hayat is sentenced to four years in prison for having received 37.2 million kroner in the form of money and assets over a period of ten years. Jimmy Hayat received three years for receiving 10.7 million kroner in the same period and for possession of child pornography. Jamilla Hayat is sentenced to two years for receiving 3.5 million kroner. Britta Nielsen is serving six years in prison for defrauding the National Board of Health and Welfare of 117 million kroner. She channelled the money to her children in the form of horses, cars and property in South Africa. Her children maintain they never suspected the money came from crime.
EU fishing agreement slashes cod quotas in Danish waters
EU ministers have agreed on new Baltic Sea fishing quotas for 2022, the fisheries minister, Rasmus Prehn, has confirmed. The current cod quota was reduced in the western Baltic by 88 percent – lower than the expected 92 percent previously proposed by the European Commission. Nevertheless, it's bad news for Danish fisheries, as it means cod caught in the western Baltic Sea may only be caught as a by-catch when fishing for other species. The same rule will apply to salmon. The agreement could mean that around 100 vessels will have to stop fishing. On average, each vessel employs two people. The measures are due to the overfishing of cod in the Baltic Sea.
Independent task force set up to investigate Scandinavian Star fire
An independent taskforce has been set up to assess the insurance conditions and responsibility behind the fire on board the MS Scandinavian Star ferry on April 6 1990 that killed 159 people. The justice minister, Nick Hækkerup, has appointed the following members: Professor Kristina Siig (Chair), Peter Giersing (defence lawyer), Jakob Buch-Jepsen (former prosecutor) and former police commissioner Ove Pedersen (investigation expert). The Scandinavian Star disaster was the deadliest fire in recent Scandinavian history, and the original investigation drew criticism for being inadequate. The new assessment is expected to take one and a half years.
Zealand hospitals drop Greek and Latin names
Region Zealand will replace Greek and Latin names on signage in hospital wards with Danish translations. Tina Boel, a SF regional councillor, made the proposal, after observing confusion amongst hospital patients during visits. The decision is supported by the Patient Association's chair, Niels Jørgen Langkilde. Some hospitals in the Capital Region, Southern Denmark and Central Jutland have already implemented the name changes. The wards that will have their names changed ,and how they will be worded, will be decided early next year.
Back to the drawing board on gender reassignment proposals
The government is reconsidering an earlier proposal to allow children regardless of age to change gender on the civil registration register – a procedure known as 'legal gender reassignment'. Currently, you must be 18 years old to do so. The delay is due to a statement from 17 members of the Danish Council of Ethics. Though a majority are in favour of lowering it to 10-12 years, they were unable to agree on the blanket removal of an age limit, nor a definite alternative minimum age.
Increase in women running in regional elections
In the regional elections on November 16, there will be 487 female candidates – 47 more than at the last election. In total, 36 percent of the election candidates are women. In 2013, women accounted for 28 percent. Professor Karina Kosiara-Pedersen of the University of Copenhagen speculates that the increase reflects that women are often overrepresented in key areas of regional politics like education, care and health. The regional election is held at the same time as the municipal election, where representatives are elected for the 98 municipalities.
Some 50,000 support citizen proposal to make parental leave more flexible
A citizens' proposal to enable new parents to transfer their share of parental leave to their other half has reached 50,000 signatures. The proposal directly rejects the government's proposal to ensure each parent has a minimum of 11 weeks. Under current rules, fathers must take two weeks, but this looks set to rise to at least nine weeks to comply with a new EU law on the table.
New housing fund will ensure affordable housing in Denmark's big cities
The government will allocate 10 billion kroner to a new housing fund, which should enable the provision of 22,000 new public housing units in the likes of Aarhus, Odense and Copenhagen by 2035. The possibility of rebuilding and upgrading the National Museum is also on the table. The aim of the fund is to ensure that ordinary employees such as educators, craftsmen and police officers and their families can afford to live in Copenhagen – typically in an 80-90 square metre apartment for approximately 8,000 kroner a month.
Doctors want ritual circumcisions in hospitals
More doctors and medical associations want to move circumcisions into hospitals or to at least ensure they take place under hospital-like conditions with trained medical staff. In a public Megafon survey for TV2, 61 percent of respondents felt circumcision should only take place in a hospital to minimise health risks. Ritual circumcisions have not been performed in Danish hospitals since the 1990s. Today, it is legal to perform ritual circumcisions in private clinics and at people's homes with a doctor present. In the same Megafon survey, 80 percent of Danes supported a blanket ban on circumcision.
Denmark sends COVID-19 aid to Romania
Denmark has donated 15 mobile respirators and eight oxygen concentrators to Romania for the treatment of COVID-19 patients. Romania is currently struggling with high infection rates and an under-pressure healthcare system and has requested assistance through the EU Civil Protection Mechanism. In addition to Romania, Denmark has donated medical and protective equipment to Albania, Ukraine, India, Nepal, Iraq, Serbia, Montenegro and Northern Macedonia, and it has also sent two health teams to Slovakia.