News
WHO, red bloc allies and NGOs criticise Denmark's decision to offer third corona jab to entire population
---
This article is more than 2 years old.
Vaccines would be better used in Africa in a bid to halt the pandemic, argue detractors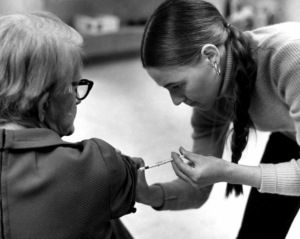 Two of the government's red bloc allies have questioned whether it is a bit selfish of Denmark to give a third vaccine dose to the entire population in light of the number of countries struggling to give their people any kind of protection.
As was widely expected, the Danish government confirmed last Friday that invitations for a third jab will be sent out to individuals who had their second jab more than six and a half months ago.
For the time being, this would only include people with chronic conditions, the over-65s and frontline workers.
But soon, healthy people aged 50-65 would become eligible.
Some will feel bad, surely?
Personally, I would feel bad about accepting a third jab when I know what the situation is in other parts of the world," Radikale health spokesperson Stinus Lindgreen told DR. "I think it's a strange priority."
Lindgreen contends that a first jab for completely unprotected people in the developing world would be a better use of the vaccines. 
Peder Hvelplund, his counterpart at Enhedslisten, agrees.
"I see no need to extend it to the healthy part of the population who have received two vaccine injections. It would be much better to prioritise people in low-income countries," he said. 
How is this stopping the pandemic?
Further afield, WHO director-general Tedros Adhanom Ghebreyesus has told CNN that such a practice is "amoral, unfair and unreasonable" – views that have been echoed by several NGOs, including Doctors Without Borders.
"Starting with booster plugs is already the worst thing we can do as a global society," Ghebreyesus argues. 
"It's unfair and unreasonable because we are not stopping the pandemic by ignoring an entire continent and the continent that has limited production potential."
Ongoing for six weeks
The first third jabs in Denmark were administered at nursing homes on September 9. 
Since then, thousands more have been jabbed, as well as many who received the single-jab Johnson & Johnson, for which the waiting time is only three months. 
According to WHO, only 7 percent of the population of Africa have received a jab, compared to 76 percent in Denmark.
Denmark has already donated vaccines to many countries, including some in Africa. Last week, for example, it was confirmed it had sent 250,000 Johnson & Johnson doses to Rwanda