Things to do
On Screens for November: How movies are rivalling Lazarus as the biggest comeback in history
---
This article is more than 2 years old.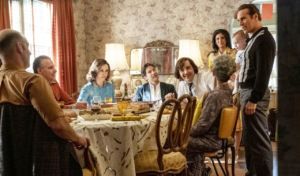 Now we know how Jesus felt. No, scratch that: now we know how Mary and Martha felt. No! Not the two women who had a threesome with Bob in that awful '80s comedy in northern England (my heart breaks to think Alan Clarke wasted some of his final moments on Earth on directing Black Lace as themselves). That was Carol and Sue …
Mary and Martha were the sisters of Lazarus (cue Sid Waddell) and their faces must have been a picture when he emerged from his tomb after a four-day holiday in the Afterlife, even if they were slightly obscured by their fingers pinching their noses. Very few of us get to experience this feeling of seeing someone come back from the dead, but thanks to the magic of the movies, it's becoming more common.
There's CGI, of course: whether it's recreating Carrie Fisher the fox (for Rogue One) or ox (The Rise of Skywalker). Appearances like these leave you with a gooeyish feeling akin to seeing a video of your childhood.
And then there's coming face-to-face with the child of a star who they're the dead ringer of. Like Frank Sinatra's … sorry Woody Allen's son … and casting Ice Cube's son as Ice Cube in Straight Outta Compton. The feeling when the star is brown bread can only be compared to seeing a ghost.
Showdown in Sweden
In The Many Saints of Newark (60 on Metacritic; HBO Max since Oct 26), the 22-year-old son of the late, great James Gandolfini portrays the younger self of Tony Soprano, the character his father sacrificed so much for … including his life. Honouring the legacy, instead of resenting the show that took his father away when he was only 14, Michael Gandolfini simply is Tony Soprano. Missing this if you're a fan of the series is sacrilegious.
Likewise Licorice Pizza (Dec 9) will bring back the spirit of Philip Seymour Hoffman through his son Cooper to 'reunite' with Paul Thomas Anderson, Dad's sparring partner on The Master, to bring us a coming of age tale set in LA in the 1970s. As Boogie Nights proved, nobody recreates this period better than Anderson.
Completing the children of famous actors club, we have Grace Gummer, one of several daughters of Meryl Streep to follow her mother into the profession, who can be currently seen in Dr Death (CMore), an eight-part miniseries about two surgeons intent on bringing down Christopher Duntsch (Joshua Jackson), a maverick who bludgeoned his way through operating theatres in Texas a decade ago. If this was fictional, you'd stop watching halfway through episode one, but it's not, and your eyes burn a hole in the screen.
Of similar ilk, Alba August, the half-Swedish daughter of Danish director Bille, portrays the nanny who killed a former employer in Sweden in 2004. The result is the Swedish-language series Knutby (CMore from Nov 1), but it would be wrong to place this in the 'too far-fetched to not be true' genre as many elements of the story have been changed. In fact, CMore points out: "Any similarities with reality in these cases are unintentional. In other cases, the similarities with reality are intentional." Given that 'Knutby' entered the national consciousness in ways that few crimes manage, it sounds like a cynical ploy.
Funnily enough, the only murder that could trump Knutby is the assassination of Swedish PM Olaf Palmer in 1984, and this is the subject of The Unlikely Murderer (Netflix from Nov 5), a Swedish-language series coming out barely five days later!
Open field at the Oscars
Refreshingly, perhaps, neither of the girls who play the young Venus and Serena Williams in King Richard (73; Nov 18) are the children of famous people, or indeed tennis players. In the title role, Will Smith is among the favourites to win the Oscar, but he faces tough competition from Benedict Cumberbatch in the western The Power of the Dog (90; Nov 18), whose helmswoman Jane Campion is the favourite to win best director.
Continuing with what is a heavyweight month for film, combining music and deafness into a storyline, CODA (75; Nov 4) is more cuddly than Sound of Metal (it's got Marlee Matlin!), but still packs an emotional punch; fresh from his rebirth with First Reformed, Paul Schrader presents casino thriller The Card Counter (78; Nov 4) starring Oscar Isaac; Pleasure (74; Nov 25) treads the same path as Showgirls, but from obscurity to the top of the porn industry, with considerably more assurance; Tick, Tick … Boom! (Nov 19 on Netflix), the autobiographical musical by Rent creator Jonathan Larson, is the directorial debut of Hamilton creator Lin Manuel-Miranda; and French-language Palme D'Or winner Titane (Nov 11) is perhaps the weirdest film you'll ever seen: think Monster meets Crash.
Completing a month at the cinema with sparingly few duds we have promising horror duo Antlers (67; Oct 28) and The Boy Behind the Door (65; Nov 4); reasonable dramedy trio The Harder they Fall (70; Nov 3), Copshop (61; Nov 4) and Last Night in Soho (67; Nov 25); and potentially tiresome comic book tag-team Eternals (58; Nov 3) and Ghostbusters: Afterlife (NRW; Nov 18).
We had high hopes for Swan Song (66; Nov 4) starring Udo Kier, but the critics were not floored by the idea of the creepy German actor (who's having another stab at Hitler in the next season of the lamentable Hunters) camping it up as a retired hairstylist on a road trip to fix the curls of a deceased Linda Evans – even with the glorious Jennifer Coolidge onboard.
Finally, Fighting with my Family (68; Nov 5 on Netflix) could only come from the mind of one man. Set in Norwich, a local girl tries her luck at WWF. The cast is a crazy mix of Anglo and Hollywood royalty: Florence Pugh, Lena Headey and Nick Frost meet The Rock and Vince Vaughan. The writer and director is none other than Stephen Merchant.
Dogfight in Denmark
The Rock is also in Red Notice (Nov 12 on Netflix), a 'sexy' heist series co-starring Ryan Reynolds and Gal Gadot. It looks lame. And while Cowboy Bebop (Nov 19 on Netflix) is equally slick looking, it might also be lacking in substance.
The best bets this month are most probably two Danish series: Nisser (Nov 28 on Netflix), whose production team moved on to this horror straight from The Rain, and Kamikaze (Nov 14 on HBO Max), an intriguing miniseries about a teen who hits auto-destruct after her incredibly rich parents die in a plane crash. Penned by Johanne Algren (Holiday), this is HBO's first proper foray into Danish-language drama.
Among the returning TV shows, we have Tiger King (S2; Nov 17), Narcos Mexico (S3; Nov 5) and Riverdale (S6; Nov 17) on Netflix; Temple (S2; Oct 29) and Gossip Girl (S1B) on HBO Max; and … well … lots of old crap on CMore.
It was difficult to find anything of note in their line-up beyond Deceit, a British miniseries that recreates a well known miscarriage of justice that the Guardian feels was a missed opportunity. It depicts a murder the British public had given up on ever solving … until the advent of DNA, the biggest Lazarus of them all.