News
Local Round-Up: Tourist-shy Copenhagen hardest hit by pandemic
---
This article is more than 2 years old.
Elsewhere the police suffer blows separating hooligans, and it is becoming the norm, say inspector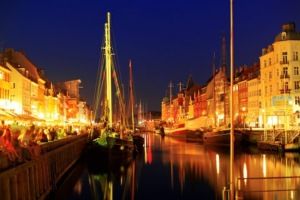 Copenhagen's economy shrunk by 4.4 percent in 2020 compared to a nationwide average of -2.1 percent, according to Danmarks Statistik. 
The sectors most hit were exports, transport, culture and leisure – most notably hotels and restaurants. 
Tourism factor
"The capital has been particularly hard hit by the closures, because the tourism and experience industries take up a lot of space," commented Dansk Erhverv senior economist Kristian Skriver, according to DR. 
Elsewhere, Greater Copenhagen (13 municipalities), which is less dependent on tourists, got off the lightest at just -0.5 percent. 
Bornholm also affected
Outside the capital, Bornholm (-3.7 percent) and Funen (-3.1) were the hardest hit. 
For the purpose of the findings, Danmarks Statistik assesses Copenhagen to include three other municipalities: Frederiksberg, Dragør and Tårnby.
---
Glasgow not the only city over-ran by climate activists
Ahead of COP26 officially kicking off in Glasgow yesterday, climate activists have been taking to the streets in Denmark – most notably outside the Climate Ministry at the beginning of last week. Scientists Rebellion, which is part of the climate movement Extinction Rebellion, organised a protest at how the government, for all its good intentions to cut emissions by 70 percent by 2030, is not listening enough to the science community. The protests coincided with an event at the ministry where 11 speakers from the community had the chance to directly address politicians about climate change measures. 
Hooliganism back with a vengeance: New Firm and new rivalries
Following an incident in which a police officer had to pull out his gun outside the New Firm Derby at Brøndby Stadion on October 24, Inspector Mogens Lauridsen has told BT that the hooligan element in football is back larger than ever pre-corona. Five officers were injured during scuffles trying to separate rival supporters – one seriously. "We have also had challenges with fans in connection with matches where nothing usually happens," he said. "I do not know if this pent-up energy built up during corona." Lauridsen is based in Vestegnen, the Western Suburbs of the capital region, an area often associated with high crime and low vaccination rates. Brøndby won the game 2-1.
Anti-racist green party the 14th on the ballot sheet for next election
Frie Grønne, a new political party founded by several former members of Alternativet with an anti-racist, climate-friendly agenda, has secured the necessary signatures to contest the next general election, which will take place no later than June 2023. After reaching its goal of 20,182 voter declarations, it just needs the formal approval of the Ministry of the Interior and Housing. "We are incredibly happy and proud. And we are incredibly grateful that there are so many citizens who have supported us with signatures," its leader Sikandar Siddique, an elected MP who was recently racially abused outside Parliament, told DR. Frie Grønne is the 14th party to secure approval, following Kristendemokraterne, Veganerpartiet and Lars Løkke Rasmussen's new party, Moderaterne.
World's largest skate park opens in suburb of the capital
The world's longest skate park opened in the Copenhagen suburb of Høje-Taastrup yesterday. Its name, previously a secret, is Åbenheden (openness). Located in the district of Høje-Taastrup C, its 1 km course starts at Høje-Taastrup Station.  Professional skateboarder Rune Glifberg, the main initiator and designer of the park, was among the first to try it out. "This is the first time we are allowed to try it, and it is absolutely fantastic," he told TV2. He is confident the skate park will attract a lot of visitors to the capital region. The skate park is climate-friendly: parts have been designed to divert excess rainwater.
Nine more recipients of city's economic recovery pool confirmed
Nine applicants to the second round of City Hall's business recovery pool, a boost for the community as it continues to recover following the pandemic, will share 3.1 million kroner, and some of the results will be seen before the end of the year, including an American food festival in Carlsberg Byen and a major winter swimming event in the harbour. It takes the spending of the business recovery pool to 10 million kroner after 16 applicants received 7.1 million kroner in June. In total, 17 applications were received.
Only 12! SF wants 100 streets to become traffic free
Red bloc party SF wants more streets closed off to traffic in Copenhagen. As part of the 2022 Budget for the capital, 13 million kroner has been set aside for making more streets traffic-free, but the current plans to convert one street in each of the 12 city districts is not enough, says SF, as it wants to convert 100. "Too many Copenhageners get sick and die every year from air pollution. If we are to eradicate pollution, we must have fewer cars in the city," commented SF's leading candidate Sisse Marie Welling, the healthcare mayor.
Co-operatives merge ahead of public housing project
There's not much going on at Syrefabriksgrunden, an area of non-descript grassland across the road from Øresundsparken near Amager Strandpark, which might explain why the government intends to build new public housing there. In anticipation of the final green light to build, local housing association Tårnby Kastrup Boligselskab has merged with Boligorganisationen Tårnbyhuse.
Leaky tunnel repair will disrupt traffic for six months
Traffic disruption is expected on Sølvgade in the centre of Copenhagen for the next six months as work is carried out on fixing a leaky tunnel that passes under the road, connecting Rigensgade with Kongens Have. The road will become one-way only for motorists. The work should be completed by next May.