News
Denmark sets aside millions in aid to Ethiopia
---
This article is more than 2 years old.
Humanitarian situation in war-torn east-African country is absolutely critical, maintains development minister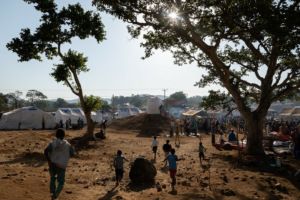 The government has announced that it will contribute 30 million kroner to help boost ongoing UN humanitarian efforts in Ethiopia. 
The development minister Flemming Møller Mortensen is participating in a meeting in Bruxelles today and one of the central points on the agenda is the dire situation in the east-African country.
"Millions of people desperately need aid as many are impacted by the armed conflict in the north. Meanwhile, the south is facing serious drought issues," said Mortensen.
"It is essential that we support the civil society in light of the serious situation the country finds itself in. So Denmark will now give 30 million kroner to humanitarian efforts in Ethiopia."
READ ALSO: Denmark set aside huge sum to aid Afghanistan crisis
War, drought and grasshoppers
Mortensen said that it was important for the EU to stand together and send a joint statement to the Ethiopian government that the current conflict escalation was not tenable.
This year alone, Denmark has earmarked 143 million kroner to help protect the millions of internally displaced, preventing and treating malnutrition and giving access to water and health services. 
The Danish aid has been directed to UN humanitarian efforts in the country, including UNFPA, UNICEF, UNHCR and other efforts driven by Danish NGOs.
The UN estimates that some 20 million people are in need of life-saving aid in Ethiopia – brought on by the armed conflict, drought, flooding, insect infestation and the pandemic.