Melanie Smith, a Canadian artist/entrepreneur who has called Copenhagen her home since early 2013, really is proof that "hard work really can move mountains" … even if you are a little overwhelmed.
 For Melanie, this has been a familiar feeling, not only as a mother of three, but also when she first moved to the capital.
But she learned the hard way that if you want something bad enough in this country, you can achieve it, even if it does mean strapping your one-month-old baby to your chest and just getting on with it!
Huge culture shock
Melanie felt distinctly unwarrior-like when she made the same journey travelled by the Vikings a millennium ago, but in reverse from Newfoundland, in 2013. 
"Coming from friendly, wonderful Newfoundland to Copenhagen was a huge culture shock; I struggled with living here every day for about seven years," she recalls.
"But after having my two little ones in the past four years, together with my eldest, I finally began to accept that Denmark is home and that I needed to secure roots in this country if I'm going to thrive here."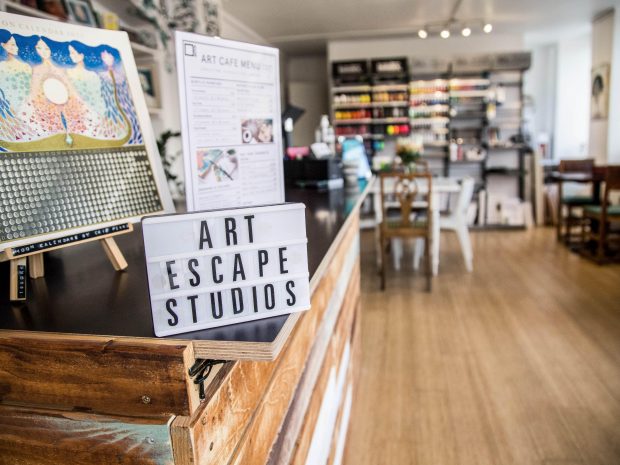 Opportunity knocked up
As a highly creative individual, Melanie had been on the outlook for some outlets for some time before an opportunity presented itself. And nothing was going to get in her way!
It came after she was accepted by a "lovely collective", which was then called Red Door. 
"This opportunity was the beginning for me … it paved the path for what is now ArtEscape Studios," she contends.
"I was three months pregnant with my son, with a one-year-old and an 11-year-old at home, but I was more determined than ever to build something strong and full of heart. When Aksel was just a month old, I went back to work with him strapped to me and dug my heels in."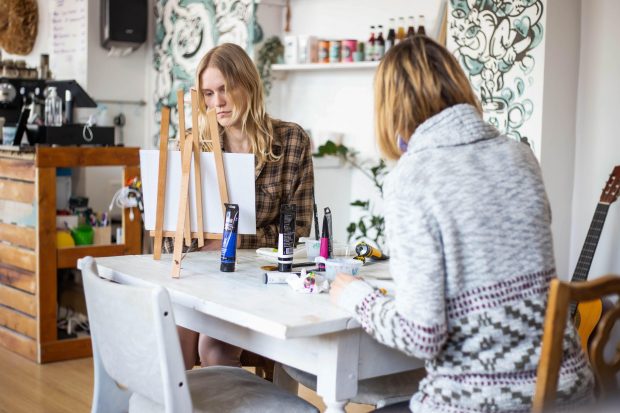 Haven for the community
The result is Art Escape Studios & Cafe, a cosy, art-focused eatery that provides a home to 13-full time artists and serves as a gathering spot: "an all-female initiative aimed at boosting community ideals and promoting creativity".
Many come to enjoy the organic vegan and vegetarian menu, for which most items are sourced locally. Combined with a fine range of organic coffees, teas and juices, it has everything healthy eaters could want.
But the main draw is the art. The cafe offers classes, workshops, exhibitions, open mics and comedy nights – to name just a few of the events and services on offer.
"The artists in the AES Arts Collective have the opportunity to generate income and maintain their creative aspirations, while those with an 'Escape' membership have access to exhibition space and other benefits that we are working on expanding in the new year," reveals Melanie.
"My hope is that people gain a feeling of security and acceptance and, in that, find possibilities that can nurture their creative growth."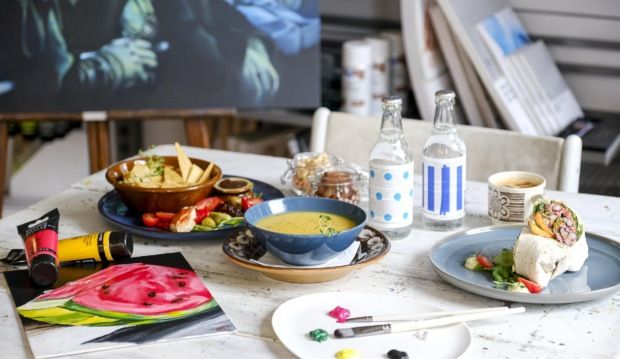 So many to thank
Melanie credits the rapid growth in the cafe's popularity to the strong community that has grown around it – a togetherness she infuses with her own close-knit familial ties. 
Over the last two years I've worked so hard to get AES where it is today, but I haven't been alone," she enthuses.
"The people I have met, work with, and have the privilege of calling friends have all helped along the way. My husband Mads has been an incredible resource and support system, and the  Art Escape Studios community has truly become my home and my family. I'm so grateful for all that has been accomplished, and I've definitely realised the importance of community and family."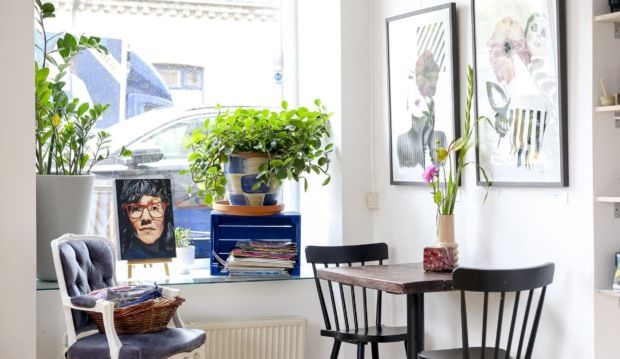 Moving mountains
Art Escape Studios & Cafe is truly a unique space that has quickly become a staple in the Østerbro neighbourhood. 
Perhaps the secret of its success is the way it has grown, very much like the food it serves, organically.
"I never really knew, when I started, where this would go, if I could do it, and I, of course, had plenty of doubts. I still do most days," confesses Melanie. To be fair, she could be describing the plot of 'Field of Dreams'. 
"But I've learned that consistency, kindness, transparency and hard work really can move mountains!" 
Find out more!
So if this has tickled your need to find an outlet for your own creative talents, or woken up a hankering for some great vegan food, why not pop along to the cafe?
To find out more about forthcoming classes and events, or just to check out the menu, visit artescapestudios.dk.
And you can follow the cafe on Facebook and Instagram @artescapestudioscph.