News
Culture Round-Up: German mayor championing museum dedicated to World War I zeppelins
---
This article is more than 2 years old.
Elsewhere, don't miss our two recommendations for stocking-fillers. They're perfect additions to your coffee table reading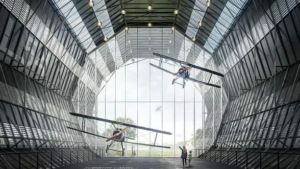 You might have read recently that Denmark will from January 1 have its first German minority mayor since 1946.
Jørgen Popp Petersen from the Schleswig Party will take over the reins of power in Tønder Municipality.
But curiously, he has already made a notable public appearance: to publicise 'Zeppelin Tønder', a forthcoming experience venue dedicated to, of all things, World War I zeppelins.
Return of the Zep
That's right, Germany gave Europe zeppelins, and now this prospective German mayor is giving us their return.
Petersen is the chair of the political steering group behind the project, which wants to create one of the world's leading zeppelin experiences, as well as look to the future with a focus on green aircraft technology.
The venue will cost 350 million kroner to realise, and so far 100 million kroner has been raised. 
The project has the backing of Zeppelin- og Garnisonsmuseum Tønder, Naturstyrelsen, Nationalmuseet, Forsvaret and DTU.
Back when it was Germany
Scheduled to open in 2028, the 5,000 sqm centre will be located in a historic aircraft hangar in Soldaterskoven. 
The hangar was used by the Germans during World War I to service four zeppelins that regularly crossed the North Sea to targets in Britain – chiefly on reconnaissance missions.
In total, 500 personnel were stationed at in Soldaterskoven, which between 1864 and 1920 was on German soil. 
When asked whether they wanted to rejoin Denmark in the 1920 plebiscite, 76.5 percent of Tønder's inhabitants voted to remain part of Germany.
---
Lionsgate gobbles up English-language rights to Danish film
Lionsgate has bought the rights to make an English-language version of 'Retfærdighedens ryttere' ('The Riders of Justice') a popular 2020 Danish film starring Mads Mikkelsen and Nikolaj Lie Kaas. The film's Danish screenwriters Nikolaj Arcel and Anders Thomas Jensen, who is also the director, have been hired to work on the English version. "The film is written as a deconstruction of the American revenge film. They have probably been able to see this and have had fun recognising the revenge plot," Arcel told TV2. "But then it dissolves into an anti-violence film about revenge being useless." Arcel is probably best known for directing and writing 'En kongelig affære' ('A Royal Affair') and directing the original Swedish version of 'Män som hatar kvinnor'. 
Crash landing: HBO Max criticised for not providing 'Kamikaze' warning
A glitch resulted in the new HBO Max series 'Kamikaze' being aired in Denmark, Norway, Finland, Sweden and Spain without any warning regarding its suicide-related content. As the title suggests, the main character tries to kill herself by crashing a plane into the desert – one of several suicide attempts. A warning was reportedly given to US viewers.
This box is the shit: Mint medieval latrine discovered during renovation
Archaeologists from Museum Nordsjælland have discovered a medieval latrine in excellent condition during excavation work at Sct Anna Gade in Helsingør where a basement is being renovated. When the museum heard about the work, they decided to monitor the situation, and a wooden box, which in olden days would have collected faeces, was discovered. It is believed it dates back to the time of Christian IV, who reigned from 1577-1648.
First corona, now the dreaded check: Ten museums face assessment in 2022
Ten museums – Billund Kommunes Museer, Fuglsang Kunstmuseum, Furesø Museer, Gammel Estrup Herregårdsmuseum, Greve Museum, Kongernes Samling, Museum Skanderborg, Ny Carlsberg Glyptoteket, Ribe Kunstmuseum and Struer Museum – can expect quality assessment checks in 2022, according to Slots- og Kulturstyrelsen, the palaces and culture agency. As well as the checks, the visits will present assessors with the chance to see how corona is affecting the sector. 
Øresund vibes: So what's it living in 'Hel'?
Helsingør Municipality is collaborating with its Swedish counterparts in Helsingborg across the Øresund on a new artistic endeavour that will monitor how local residents are feeling about their lives, reports News Øresund. The result will be a massive light installation. Artists have been recruited to realise the ambitious endeavour, which will also take air pressure, temperature, humidity, particle pollution and noise measurements into account. Danish group Healthy Mind Tech and Swedish artists Johan Gelinder and Emil Berzén are among those involved. 
Stocking filler 1: Everything you need to know about coffee in the capital
After the Danish version sold out in next to no time, it became clear to author Anja Olsen: she had to write an English-language version of her book dedicated to coffee in Copenhagen. The result is CoffeCopenhagen, a love letter to baristas in the Danish capital. "CoffeeCopenhagen is a special nerdy guide that concentrates on finding the most delicious coffee that Copenhagen has to offer," Olsen told CPH POST. No fewer than 55 coffee spots are reviewed and, make no mistake, after viewing an advance copy, CPH POST can safely say this is a hardback you want adorning your coffee table at home! Order your copy here.
Stocking filler 2: Opening your eyes to the splendour of smørrebrød
It can be difficult working out the best place to try the legendary Danish open sandwiches, the smørrebrod, such is their saturation in central Copenhagen. So thank the lord for 'The Book of Smørrebrød' by Ole Troels, which is now available in English!