News
Sport Round-Up: Football heroes, Axelsen and cyclists among those gunning for name of the year
---
This article is more than 2 years old.
Elsewhere, DBU gets stuck in to human rights in Qatar, Denmark has a new teen sensation and Axelsen continues his banner year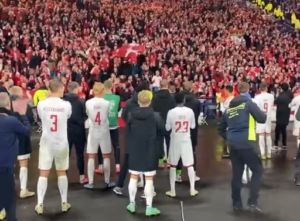 The 15 nominees for the 2021 sports name of the year award, the Årets Sportsnavn, have been revealed.
The winners will be revealed at the Sport 2021 awards on January 8 in Herning, and among those in the running are the men's football and handball national teams, several cyclists, and a badminton beast.
"It's difficult not to be excited about Danish elite sports in 2021. This list of the top Danish sports performances is a witness to how strong a sports year it has been," said Lars Krarup, the head of Team Danmark who is a member of the award's judging committee.
READ ALSO: FC Copenhagen qualify for knockout stage of Conference League on good night for Danish clubs
Heroes on the pitch
The heavy favourites must be the men's football team, which overcame Christian Eriksen's collapse, galvanised a nation in its Euro 2020 semi-final run and then qualified for the 2022 World Cup in epic style.
Viktor Axelsen has also enjoyed a landmark year, winning a host of trophies such as the Olympics and several Super 1000 tournaments.
Cyclist Jonas Vingegaard may be a dark horse thanks to an amazing year in which he finished second in the Tour de France. Had he won it, he probably would have been a shoe-in.
The 15 nominees and their top achievements are:
– Men's handball team: World Cup gold and Olympic silver
– 4km team pursuit, track cycling: Olympic silver
– Jonas Vingegaard: Second in Tour de France, stage winner in UAE Tour and overall winner of Settimana Internazionale Coppi e Bartali.
– Anne-Marie Rindom, sailing (laser radial) Olympic gold
– Jesper Hansen, skeet shooting: Olympic silver, World Cup gold and silver
– Amalie Dideriksen and Julie Leth, track cycling: Olympic and Euro silver
– Viktor Axelsen, badminton: Olympic gold, winner of Thailand Open x 2 (Super 1000), Denmark Open (Super 1000), Indonesia Open (Super 1000), finalist at All England, finalist at World Tour-finals, bronze at Thomas Cup.
– National football team (men): Euro 2020 semis and 2022 World Cup qualification
– Tobias Thorning Jørgensen, para-dressage: 2 x Paralympic golds
– Emma Aastrand Jørgensen, kayak: 2 x Olympic bronze medals, 2 x Euro gold and 3 x gold and 2 x bronze in the World Cups.
– Frederic Vystavel and Joachim Sutton, rowing: Olympic bronze
– Lasse Norman Hansen and Michael Mørkøv, track cycling: Olympic and World Cup gold
– Lisa Gjessing, Para taekwondo: Paralympic gold
– Kasper Asgreen, cycling: winner of Tour of Flanders, E3 SaxoBank Classic, the time trial of Volta ao Algarve, and fourth at the time trial World Cup.
– Pernille Blume, swimming: Olympic bronze and Euro silver
---
Ladies take huge qualification win
The Danish women's national team took a big step towards qualifying for the World Cup next year by beating Russia 3-1 last night. Denmark stormed into a 3-0 lead thanks to three second-half goals, before the Russians pulled one back near the end of the game. Both teams had maximum points before the match and the win sees the Danes move up to 18 points three ahead of the Russians. The group winner qualifies directly for the tournament, which will be co-hosted by Australia and New Zealand.
Kjær hailed at the Ballon d'Or ceremony
Denmark and AC Milan defender Simon may only have finished 18th in the running for the Ballon d'Or this year, but for some moments he was the centre of attention during the ceremony. ´Former Chelsea legend Didier Drogba took the stage and hailed Kjær for his handling of the Christian Eriksen situation during Euro 2020, drawing applause from the crowd. Allan Simonsen remains the only Dane to have won the coveted award, back when it carried the title European Footballer of the Year in 1977, Meanwhile, Pernille Harder came seventh in the women's award.
Denmark closing in on coefficient goal
Thanks to a superb run in Europe last week, Denmark are closer to achieving the goal of reaching the top 15 of the UEFA coefficient rankings. FC Copenhagen, Randers and FC Midtjylland all won, pushing Denmark into 18th, just a few points behind Greece in 15th. With one round remaining, FCK have already won their group, while FCM and Randers have a chance to finish in the top two of their groups. Brøndby, meanwhile, are last in their group, but could finish third and qualify for the knockout stage of Conference League if they win their last game.
DBU denounces the arrest of journalists
Last month, two Norwegian media members were arrested in Qatar while completing a report on the working conditions of foreign workers involved in the construction of the 2022 World Cup facilities. They were detained for 36 hours and their equipment was confiscated. DBU head Jakob Jensen has condemned the action, calling it unacceptable and accusing Qatar of denying free press. Meanwhile, the Qataris claim the two journalists violated Qatari law by trespassing on private property.
DBU more involved in opposition to Qatar
DBU has decided to continue the fight for the improvement of human rights in Qatar. After the national team's World Cup qualification, it was decided that both sponsors Danske Spil and Arbejdernes Landsbank will simultaneously renounce their logos on the players' shirts in favour of critical messages. The aim is also to downplay the team's presence in Qatar as a purely sporting participation and not promote the organiser's events. 
Eriksen remains among the most expensive
Christian Eriksen reportedly earns the second-highest salary in Serie A, according to Italian media Calcio e Finanza. In late 2020, Inter went to great lengths to secure the services of the Dane for 136 million kroner, offering him a contract worth 55,770,000 kroner a year. He went on to make 43 appearances, but has not played this season after his collapse during Euro 2020. Eriksen's future at Inter is uncertain given that he has had a pacemaker implanted – players are not permitted to play with such a device in Serie A. His club is working on a solution and asking UEFA for financial support. 
A new Roony teen sensation
On 21 November, Roony Bardghij made history at FC Copenhagen by becoming the club's youngest debutant at the age of 16 years and six days and then the Superliga's youngest scorer just seven days later. The young Swede is also one of the top three youngest players in the history of the Superliga, behind Jeppe Kjær, who made his debut for AC Horsens on his 16th birthday, and Filip Bundgaard, who was just two days older when he appeared for Randers. Kjær previously held the record as the league's youngest goal scorer.
Axelsen wins elusive Indonesia trophy
Viktor Axelsen continued his good run of form by winning the Indonesia Open for the first time in his career. Axelsen beat Loh Kean Yew of Singapore 21-13, 9-21, 21-13 in the final of the Super 1000 tournament. The win pushes the Dane to the top of the BWF World Rankings ahead of Kento Momota of Japan. A week earlier Anders Antonsen – ranked third in the world – lost to Momota in the final of the Indonesia Masters in two sets (17-21, 11-21). Denmark now has three players in the top 10 in the world, with Rasmus Gemke jumping three spots to 10th.
The land of all confrontations
The Danish men's and women's handball teams will have home advantage for the 2026 (men) and 2028 (women) European Championships, as they will co-host the tournaments with Sweden and Norway following the European Federation congress on Saturday 20 November. Denmark is also co-hosting the 2023 (women) and 2025 (men) World Cups. The last time a handball finals was hosted by Denmark was in 2020 in Herning and Kolding.
Young gun coveted in the US
Magnus Møller, 18, has received 12 offers to play American football at US universities. An offensive lineman for the Triangle Razorbacks, he has impressed with his physicality (208 cm, 135 kilos) and his vision. Møller must choose which offer he will accept this month. Among the offers he is considering are bids from Illinois, Cincinnati and Fresno State.