News
Xmas in Denmark: Greatest story ever told
---
This article is more than 2 years old.
Why listening to it in Danish could improve your understanding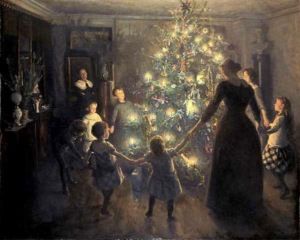 Ever wondered why the Danes are so good at English, and you're so bad at their language?
Ask yourself: how many Danish versions are there of Anglophone classic novels, films or songs? Not many, right! If the Danes like it, they'll enjoy the original with subtitles, not dub it like in southern Europe. Or they'll craft something completely unique.
Take 'Happy Birthday'. There are Albanian, Armenian, Bulgarian and Croatian versions – and that's just up to 'D' in Europe. 
But there's no Danish version! The Danes have their own songs: brilliantly inventive, much longer and far jollier. And sometimes they sing Happy Birthday as well – in English.
A story we all know
So we're agreed that Danes are good at English because they get to practise it enjoying Anglophone songs (increasingly rap, let's face it) and films.
If only there was a story in Danish that we were already familiar with in English. No, it's not 'Out of Africa' … some have even said it's the greatest story ever told. Harry Potter, Luke Skywalker, Neo off 'The Matrix' are all based on it!
Yes, it's the story of Jesus Christ, and this is the story of how going to a Danish church could dramatically help you improve your English. 
After all, as was demonstrated at Pentecost, foeign tongues needn't be an obstacle for kindred spirits with a shared cultural heritage and traditions.
Unique Xmas songs
Not only do the Danes have unique birthday songs, but the same is true of Christmas. 
Granted there are a few foreign language classics that have made the grade, such as 'Away in a Manger' (US), 'O come all ye faithful' (disputed origins), 'Jingle Bells' (US) and 'Stille Nacht' (Germany), but not that many.
But don't let that stump you, as some of the Danish songs are really, really good – and also useful if you want to enjoy dancing around the Christmas tree.
Dancing at speed
To get the party going, let's start with the 18th century Swedish ditty 'Nu er det Jul igen' (now it is Christmas again). 
Undoubtedly the most energetic choice for dancing around the Christmas tree, it's a cue to tour the rest of the house at high speed, over beds and as fast as possible, singing on repeat. 
If that sounds like hard work, learning it is easy: "Nu' det jul igen, og nu' det jul igen, og julen varer li' til påske / Nej det' ikke sandt, nej det' ikke sandt, for ind imellem kommer fasten" simply translates as "Now, it's Xmas again (twice) and Xmas lasts until Easter / No, it's not true (twice), because in between comes Lent."
Repeat after me: Now I know a Danish Christmas song.
Deeply humorous
Equally catchy is 'På loftet sidder nissen med sin julegrød' (In the attic, the elf is sitting with his Christmas porridge), which starts off slowly with the title line and then really catches fire mid-verse with a group of rats envious of the Christmas feast.
It's a deeply humorous take on what might be happening above the beams and below the floorboards of a typical Danish abode.
Also with its eyes on the ceiling is 'Højt fra træets grønne top' ('high up on the Christmas tree'), which looks at Christmas through the eyes of a small child, all huge and novel.
Again very witty, and a little philosophical, the final verse is told from the perspective of a parent who tells the kids: "Nu er jeg blevet træt" (I'm knackered now) and finally "Julen varer længe, koster mange penge" (Christmas joys are many, costs a pretty penny). 
Piercing and soulful
Bridging the gap between Christmas songs and carols is 'Dejlig er den himmel blå'. An early work by NFS Grundtvig, who based the carol on the nativity story in the Gospel of Matthew, the music followed in 1840. It's been a favourite in church pews and around the tree ever since.
You'll probably only hear 'Dejlig er jorden', written by BS Ingemann in 1850, in church, though. Piercingly beautiful, once heard it isn't forgotten. For many Danes, it is such a nostalgic and meaningful carol that it's often sung for funerals, as well as at Christmas.
Sprinkled with a generous number of Hallelujas, 'Et barn er født i Bethlehem' is another favourite with congregations across Denmark.
Hallelujah to that
'Hallelujah' also features heavily in 'Handel's Messiah', which has over the last century become a mainstay of the Danish Christmas. 
The oratorio regales the story of Christ's birth, crucifixion, resurrection, ascension, and return. And the Danes keep on returning to church every year to hear it. 
It was said that King George II of Britain was so impressed by the music that he stood up to show his appreciation during the famous 'Hallelujah' chorus, thus starting a tradition that is still followed today.
Concerts at the churches
But really, 'Handel's Messiah' is just the tip of the iceberg concerning concerts in Copenhagen over Christmas and the New Year. Clearly singing plays a huge part in the festive experience here.
Gospel music, classic Christmas music, other classical music and even the odd Disney song will be played at multiple venues across the capital in December.
And it is no surprise to note that the absolute majority will be held in churches. They have a track record of delivering – spiritually, acoustically, capacity-wise and on price too!
The crown of candles
Another fabulous Christmas tradition that has been catching on fast in Denmark of late is observed on Luciadag on December 13.
You might have seen a procession at your child's school. Bearing candles, all dressed in white, the participants sing the saint's song, which once heard stays with you until next year.
Celebrated annually in Sweden since 1927, and in Denmark since 1944, the head of the procession wears a crown of candles. If you have the chance to witness the procession in a church, don't miss the opportunity.
Crazy to miss this!
Britain has its festive pantomimes, but most countries prefer Christmas ballets, and Denmark is no exception. 'The Nutcracker' is playing almost every day at Gamle Scene until December 22, and 'The Snow Queen' at Tivoli until December 23.
An added bonus at the latter: this is the ballet that Queen Margrethe designed most of the costumes and decorations for! 
But if it is British-style panto you're craving, try the Crazy Christmas Cabaret, also at Tivoli. Their show this year, which runs until January 15, is set in Miami – just the ticket for warming up for Christmas!