News
Local Round-Up: Every other Dane's favourite childhood memory, Tom McEwan, is back in business!
---
This article is more than 2 years old.
Looking to the future, the construction of Lynetteholm and Vejlands Kvarter have received the green light, while plans are unveiled for new district Postbyen and a revamp of Hotel- og Restaurantskolen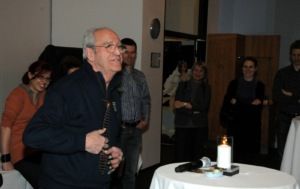 Ask Danes who grew up in the 1970s and 80s to name their favourite children's entertainers, and the name of one Scotsman will pop up with untold regularity: Tom McEwan.
A regular performer on Copenhagen's stages up until the end of the first decade of the century (chiefly with That Theatre Company) he has been more muted in recent years, known on rare occasions to perform at retirement parties – including his own! – and the odd Burns Night.
READ MORE: Six feet under, Irish alchemy is at work at a bar in Frederiksberg
Sunday jam session at Gravens Rand
But apparently there is life in the old dog yet, as the popular performer has become a regular at the Sunday afternoon jam session at Gravens Rand, a pub near Copenhagen Zoo that was recently taken over by three Irishmen.
Two of them, Eamonn O'Connor and Pat Sheridan, are also known for their ability to hold a tune, and McEwan's participation has been a dream come true in their bid to establish the bar as a serious music venue.
Soaking up the applause/Guinness
Charlie Waller, the lead singer of the Rumble Strips, and pub singer extraordinaires Ray Weaver and Dessie Higgins are also regular visitors to the jam sessions, which are absolutely free to the public, providing they soak up some Guinness while the musicians soak up the applause.
So what's keeping you? Be there at 15:00 this Sunday to watch a living legend in the flesh.
And should you happen to have any Danish colleagues aged 40-60, tell them about it, as this is one trip down memory lane they won't want to miss!
---
Lynetteholm work free to start over the weekend
Work is set to start on the 2.8 sq km island of Lynetteholm at the end of this week, according to By & Havn. The construction of the island has got the go-ahead following an all-clear from marine archaeologists from the Viking Ship Museum, who have in recent months been combing the area for finds of cultural historical interest. The artificial island will be constructed by filling a frame with untold soil – a process that could take between 30 and 40 years. The vision of the island will be fully realised in 2070, but it could have occupants and a working Metro as early as 2035.
Green light for Vejlands Kvarter complex in Amager Fælled
Complaints submitted by Danmarks Naturfredningsforening and Amager Fælleds Venner against the constructions of the Vejlands Kvarter building complex in the heart of Amager Fælled have been rejected by appeals bodies. The upshot is that work will most probably begin on the complex, which will include 500 affordable housing residences, next year.
Plans unveiled for new district wedged between two rail stations
Postbyen, a new car-free district located between Copenhagen Central Station and Dybbølsbro Station, is expected to open in 2027. Residents will have access to a 88,500 sqm underground carpark. Postbyen, which will mostly consist of private/public housing and office space (for 6,000 workers), is being developed in three phases. Among the businesses with an interest in the new area are Danske Bank, ATP and Danica Pension, which together with the DSB rail operator is a 50 percent owner of the area. 
Doughnut chain bankrupt just two years after blockbuster start
The Bronuts doughnut chain is bankrupt. Founded in 2019, it made a profit of 2.8 million after tax in its first financial year as punters queued around the block, and at its peak it had 12 outlets, including three in the capital, with plans to expand across the Nordics. But founders  Türker Alici and Ninos Oraha, faced with a debt of 8-10 million kroner, have been forced to wind it up.
Copenhagen to host sailing's answer to Formula 1
Copenhagen will host SailGP next August, it has been confirmed. Contested by 16-metre catamarans reaching speeds of up to 100 km/h, the event is often hyped as sailing's Formula 1. Contested in the waters off Oceankaj from August 19-20, SailGP head Jonas Høgh-Christensen, the Dane who finished second to Ben Ainslie at the 2012 Olympics, predicts the local sailors will thrive with home advantage on their side. However, it is not Denmark's first hosting of the event, as Aarhus hosted SailGP in August 2021. 
Of the capital's 47 confiscated cars, three were taken from the same man
A 28-year-old man from Greater Copenhagen has had three cars confiscated this year. His offences include driving without a licence, driving whilst intoxicated, driving without a seatbelt, and driving at 147 km/h in a 70 km/h zone in Albertslund. He has also been fined, sentenced to 30 days probation and banned from driving. In total, 47 cars have been confiscated by the authorities in the capital region this year since new laws permitted it.
Hefty investment in hotel and restaurant school in Valby
PensionDanmark plans to invest 1 billion kroner into building new facilities for Hotel- og Restaurantskolen on Vigerslev Allé in Valby, which could be completed by 2025 or 2026. The new complex will include a new campus area, public housing and residences for families – in total 435 homes. 
Plans to reopen quick test centres in Forum and Ofelia Plads
Quick corona test centres at Ofelia Plads and Forum will reopen next week following an increase in demand. The Ofelia Plads centre will reopen on Monday at 08:00, and the Forum centre on Tuesday at 12:00. Both will be open daily from 08:00 to 21:00. 
New square near Nørrebro Station is named Mimers Plads
As was expected back in August, the new square in front of Nørrebro Station will be called Mimers Plads – a choice influenced by the nearby street of Mimersgade that continues the tradition of naming streets and squares in the area after aspects of Norse mythology. Other names under consideration were Basar Plads, as it was known during construction as Basargrunden, and Palæstinas Plads.
Rigshospitalet extension wins World Architecture Festival award
Nordfløjen, an extension recently added to Rigshospitalet, has been named the world's best new health building by the World Architecture Festival. The extension was designed by LINK Arkitektur and 3XN in collaboration with Nickl & Partner, SWECO and Kristine Jensen's Design Studio on behalf of the Capital Region. LINK told TV2 the award was a "career crowning point". 
Harbour seal takes residence in south of the city
A harbour seal has taken residence at the entrance to Sluseløbet in Sluseholmen in the south of the city. Local dog owners have been warned to steer clear, and marine biologists have hailed the news, claiming it proves the local waters are in good condition.
Airport watching zone up for grabs for one-off payment and regular rent
The lease on a piece of land located at the end of Amager Landevej, where visitors can watch planes take off and land at Copenhagen Airport, is up for grabs for 6.9 million kroner. On top of the payment, the monthly rent is 25,000 kroner. Since 1991, it has housed Flyvergrillen, an experience venue that offers guests a barbecue and playground facilities, and over the summer, it tends to be sold out weeks in advance. Flyvergrillen owner Jannie Eilsø is cashing out, but will remain the landlord. According to estate agent Andersen Erhverv, there have already been 75 inquiries of interest.
Construction site completed powered by fossil free-fuel
The machines used at the Skt Petersborg Plads construction site in Nordhavn are 100 percent powered by fossil free-fuel – the first time in Danish history. The accomplishment is in line with Nordhavn's self-image as the sustainable district of the future. The machines use HVO diesel, which is biodegradable and reduces CO2 emissions by up to 90 percent compared to fossil diesel.