News
Copenhagen expands its unique open-air wedding program
---
This article is more than 2 years old.
In 2022 couples can tie the knot during Copenhagen Light Festival, Tour de France or at the Royal Theatre … with H C Andersen!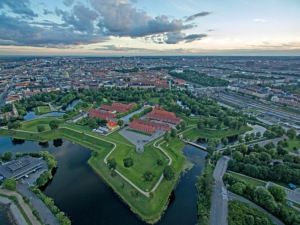 Copenhagen's popular 'Vie i det fri' ('Open-air wedding') initiative is back in 2022 and will be expanded to include seven new unique locations. 
Couples looking to tie the knot will have some new exciting options at their disposal, including getting married at Copenhagen Light festival, Superkilen, Glyptoteket, the Maersk Tower and when the city hosts the Tour de France.
"Our 'Vie i det fri' events aim to give couples the opportunity to make an already special day even more wonderful, and they are usually very popular," said culture mayor Franciska Rosenkilde.
"Next year's program includes classical locations and a number of new exciting locations, so the scene is set for a really good year for love."
READ ALSO: Style Stil: A bespoke designer reveals the secrets of how to choose your perfect wedding dress
A fairytale wedding
Speaking of scenes, one of the new options is a fairytale wedding at the Royal Theatre led by H C Andersen himself … well, an actor playing the legendary author.
Another new entry has a touch of maritime aboard the famous schooner Halmø, built back in 1900.
In total, the 2022 program will include 24 events across 15 locations, including iconic city areas such as Kastellet citadel, Amalie Haven, the King's Gardens and the Royal Library garden. 
In 2021, 406 couples were married in 'Vie i det fri' events. 
Read more about the various locations on offer here (in English).