News
Culture Round-Up: Female version of historic 1915 Constitution painting planned for lobby of Danish Parliament
---
This article is more than 1 year old.
Elsewhere, it's nomination news galore, with the Oscars, Roberts and CPH Culture all confirming shortlists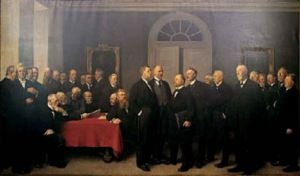 Visitors to Samtaleværelse (the Conversation Room) at the Danish Parliament can view Herman Vedel's painting of the 30 'fathers' of the 1915 Constitution, which gave women the right to vote. 
Now a female version has been proposed, which will be hung in the very same room, which is often the greeting place for prominent foreign visitors. 
"Better gender balance"
"We thought it was time to honour some of the talented women who have shaped Danish politics over the past 100 years," explained the speaker of the house, Henrik Dam Kristensen. 
"With the new painting, we are creating a better gender balance. It will stand for posterity as a testimony about women who have had a special significance for the work of the Folketing."
Two-thirds from left bloc
Bo Lidegaard, the former editor-in-chief of Politiken, played a major role in choosing the women (see factbox). 
Socialdemokratiet ended up accounting for the most with 11 politicians, while the current red bloc has taken 20 places. 
The painting will be as big as Vedel's: so at least 3.67 x 5.88 metres.
---
DR confirms season 4 of 'Borgen' will premiere in February
Birgitte Nyborg may not be the PM anymore, but who knows what will happen in season 4 of 'Borgen', which is returning to Danish screens this February. Normally Christmas Day is a good time to bury bad news, but DR used it to confirm the first episode will air on February 13. The eight-episode season will mainly focus on Denmark's pivotal role in a battle for the Arctic, as other  nations converge on Greenland in search of oil. Alongside Sidse Babett Knudsen as Nyborg, Birgitte Hjort Sørensen and Lars Mikkelsen are also returning from the original cast, while Mikkel Boe Følsgaard is a new addition.
Minimal noms for English-language theatre groups
In the absence of its foreign theatre category, there were fewer international nominees among the CPH CULTURE biannual theatre nominations this time around. Both Sue Hansen Styles and Vivienne McKee have been nominated for the Honour Award for their respective work on 'Happy Days' (Why Not Theatre production) and 'Crazy Christmas Cabaret' (London Toast), while the director of the former, Peter Weiss Dupont, has picked up a nod for directing – shared with his work on 'Erna i krig'. The winners will be revealed on February 1. 
Classic sculpture can be reproduced for free, agrees Danish creator
Danish artist Jens Galschiøt has relinquished his right to the copyright of his sculpture 'Pillar of Shame', which was controversially removed from its home outside Hong Kong University just before Christmas. Since 1997, the eight-metre-high, two-tonne orange sculpture of bodies deformed by pain and despair has stood there in memory of the victims of the Tiananmen Square massacre in June 1989. Since then, Galschiøt has received over 40 inquiries from parties interested in making copies and erecting them to draw attention to the fight for democracy in Hong Kong. "Any [future] profits must be given to the democracy movement," he explained to media. "Normally artists do not give the commercial rights of their art away for free, but I have done so out of a thought that it is important that the art comes out. The original statue had a value of 1.4 million US dollars.
Surprisingly good year for cinemas despite lengthy closures
More cinema tickets were sold in Denmark in 2021 than in 2016 and 2017, despite all establishments being closed from January 1 until May 6, and then again from December 18-31. It's all the more remarkable given that distancing requirements were in force from May until August. As of December 12, some 2.7 million had been sold according to DFI, and the volume of tickets sold between August and October was the highest since 2012. Leading the way was the James Bond film 'No Time to Die', which sold 1.058 million tickets, followed by the most watched Danish film, 'Ternet Ninja 2', with 930,000. It proved to be the best performing Danish film since 'Op på fars hat' in 1985. Danish films, which occupied five of the top seven places, accounted for 40 percent of the market, while the US could only manage 33 percent. 
'Flugt' remains on course for unprecedented Oscar treble
As expected, Jonas Poher Rasmussen's animated documentary 'Flugt' remains on course for an unprecedented nomination treble at the Oscars. It has made the 15-film shortlists for both Best Feature Documentary and Best International Feature Film, and it remains one of the favourites to win Best Animated Film. Meanwhile Camilla Nielsson's documentary 'President' has also been shortlisted, along with two short films, which have both been produced by M&M Productions: 'Stenofonen' by Nicolaj Kopernikus and 'On My Mind' by Martin Strange-Hansen. The final five-film shortlists will be confirmed on February 8 and the winner revealed on March 27.
Margrete dominates Robert noms, plus another unprecedented treble
'Margrete den første' has received the most Robert nominations – Denmark's answer to the Oscars, which will be awarded on February 5. In total, it received 13 nominations, just ahead of the other best film nominees: 'Venuseffekten' (12), 'Hvor kragerne vender' and 'Skyggen i mit øje' (11) and 'Pagten' (10). Jonas Poher Rasmussen's animated documentary 'Flugt' picked up four nominations. But unlike the Oscars, the Roberts also awards prizes to television shows, and Netflix will be pleased to note that 'Kastanjemanden' ('The Chestnut Man') is leading the way with six nominations, although its much-hyped horror series 'Nisser' only got one. Still, at least it beat HBO Max's big Danish offering, 'Kamikaze', which received three. Finally, and it probably doesn't happen often, but Sabine Hviid, the wife of occasional CPH POST reviewer Mark Walker, has been nominated three times for Best Set Design for 'Skyggen i mit øje', Venuseffekten' and 'Den Næstsidste'. Sod's law, the designer nominated for 'Margrete den første' will probably win.
TV2 hit by more #MeToo revelations
TV2 was hit by more #MeToo revelations over the festive period when Information published details of interviews with 13 former employees, who all complained about having to endure a strongly sexualised culture whilst working there. Allegations of groping, inappropriate suggestions and risque behaviour on business trips was highlighted. TV2 was quick to apologise, admitting that the "completely unacceptable" behaviour sounded like it took part in its commercial department. 
It's a 'No' from Denmark to Norway's request for historic manuscripts
Norway and Denmark were the same country until 1814, which explains why institutions in the latter continue to house many of the former's historical artefacts. Included are 11 Norwegian medieval writings that Denmark has been asked to permanently return – a formal request was made by Norway's culture minister Abid Raja to her Danish counterpart Joy Mogensen last February. Well, the answer took a while, but it's a no. The Arnamagnæan Commission at the University of Copenhagen has even ruled out a short-term lease due to fears exposure will damage the ancient manuscripts.