News
Science Round-Up: 'Historically bad' wind speeds blamed for renewable energy dip
---
This article is more than 1 year old.
Meanwhile, Danes are returning to traditional news media as trust in the press rises, and a study into Greenlanders' sugar-consumption unearths a surprising genetic variant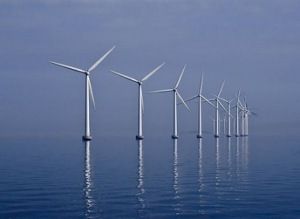 The level of wind energy supply in the Danish power system fell in 2021 due to a "historically bad" year of wind speeds, according to Jesper Kronborg, a senior business developer at energy company Energinet.
Wind supply's contribution saw a "noticeable decrease" from 46.5 to 43.6 percent between 2020 and 2021 – despite the 600MW Kriegers Flak offshore project coming online during the last year.
A "bad wind year"
"2021 was a bad wind year for the whole of northwestern Europe," Kronborg told renews.biz. "The wind supply in 2021 was around 10 percent lower than a normal year, while in 2020 it was some 4 percent higher."
The effects of the decline were exacerbated by an increase in electricity consumption in Denmark of almost 5 percent from 2020-21, contributing to a lower wind share, added Kronborg.
Set to pick up in 2022
But the Energinet spokesman is optimistic. "With the Kriegers Flak offshore wind farm in full operation, and if next year becomes a fairly normal wind year, we can expect to supply 50 percent of the country's power with renewable energy in 2022," he said.
In total, renewables contributed 47.2 percent of Denmark's power in 2021. It was a record year for solar power production, which accounted for 3.6 percent of the total national energy supply, up from 3.4 percent in 2020 – despite 10 percent fewer sunshine hours during the year.
---
 New international research centre to develop stem cell medicine
Novo Nordisk Foundation has granted 2.2 billion kroner to create an international stem-cell research centre – a collaboration between the University of Copenhagen, Murdoch Children's Research Institute in Australia and the Leiden University Medical Centre in the Netherlands. The research into repairing damaged tissue with lab-grown cells will be used in the treatment of incurable diseases. Research at the Novo Nordisk Foundation Centre for Stem Cell Medicine will begin in January 2022.
Some Greenlanders immune to the pitfalls of sugar
Some 3 percent of Greenlanders have a gene variant, the result of the native low-sugar diet, which causes sugar to be metabolised in the colon, rather than absorbed into the bloodstream. Those with the variant generally have a lower BMI, weight, fat percentage and cholesterol levels, according to researchers at the Department of Biology at the University of Copenhagen.  The study of data from 6,551 Greenlanders found that a sucrase-isomaltase deficiency allows intestinal bacteria to convert sugar into a short-chain fatty acid called acetate, known to reduce appetite, increase energy metabolism and boost the immune system.
Restored wetlands lack biodiversity
A University of Copenhagen study of restored wetlands on Funen shows that plant biodiversity remains poor even after 17 years of recovery. In Denmark, more than 200 wetlands have been restored in the last 25 years under the assumption they will support populations of plants such as cuckoo flowers and buttercups, which have become rarer in Denmark in recent decades.
Noisy waters stressing Arctic narwhals
A study by the University of Copenhagen and the Greenland Institute of Nature has found that narwhals are negatively affected by noise from ships and seismic air cannons from up to 30 km away. The sounds trigger stress, which prevents the narwhals from using echolocation to forage, causing them to linger near the surface or close to shore, like they do when they feel threatened by orcas. It's hoped the study will help to encourage better Arctic sound management.
Carnivores more likely to get cancer
A study by the University of Southern Denmark assessing cancer prevalence among zoo animals has concluded that all mammals can get cancer, with carnivores being significantly more prone. The study found that more than 25 percent of wood leopards, foxes and red wolves die of cancer, while ungulates (hoofed mammals) are highly resistant to the disease. The high risk among carnivores may result from low microbiome diversity, limited exercise or viral carcinogenic infections. Among humans, body size (height) is associated with an increased cancer risk but this does not hold true across mammalian species. The phenomenon that the incidence of cancer does not appear to correlate with the number of cells in an organism is known as Peto's Paradox.
Drugs excreted in urine found in drinking water
Researchers at the University of Southern Denmark have found that levels of drug residues are increasing in drinking water due to the addition of urine containing medication to the waste system. According to a report by DANVA, the trace drugs are derived mainly from antibiotics, antidepressants, hormones, anti-inflammatory drugs and medicines for cardiovascular diseases. This applies to both the Danish tap water that is pumped up from the subsoil and the purified surface water that almost all other countries use for their water supply.
Trust in the Danish press increased during the pandemic
The annual report 'The Danes' use of news media 2021′, which was carried out by Roskilde University and the Reuters Institute for the Study of Journalism in Oxford, found that trust in the Danish press increased by 13 percent from 2020 to 2021. In 2021, 59 percent of Danes expressed 'general confidence' in Danish reporting – the highest rate since 2016. Usage of traditional news media increased last year – particularly among the 18-24 age group where it rose by some 10 percent – though levels of social-media news consumption remained high.
New heart valve treatment makes surgery more widely available
At Aarhus University Hospital, a new type of treatment for a heart-valve leak using a 10cm-long 'Cardioband', carried up to the heart via a blood vessel in the groin, has been successfully performed on a 77-year-old heart-transplant patient. Since 2018, the team at Aarhus University Hospital has repaired leaky tricuspid valves with small clips, but in this case the clip would have been insufficient.
Corona vaccine gives same level of protection to those with HIV
As many as 98 percent of those living with HIV develop antibodies after two corona vaccines, compared with 99 percent of healthy Danes. The Department of Infectious Diseases at Rigshospitalet called the encouraging figures "a testament to the Danish HIV treatment system" and "good news for those who worry about vaccine efficacy for HIV sufferers". About 6,600 people live with HIV in Denmark.