Education
Transform your career and become the leader our future needs with an MBA programme from Copenhagen Business School
---
This article is more than 1 year old.
Accelerate your career and learn sustainable business leadership – enrolment deadlines are approaching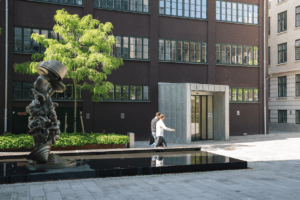 Central to living in the Danish capital is sustainability, and this year Copenhagen Business School (CBS) is celebrating ten years of teaching Sustainability and Responsible Leadership across its three world-renowned MBA programmes: the Full-Time MBA (aka the Copenhagen MBA), the Executive MBA (EMBA), and the Executive MBA in Shipping and Logistics (aka the Blue MBA).
These programmes emphasise the best of Scandinavian business practices. Sustainability is not something that is merely spoken about, but an ethos embedded deeply in Nordic society that has over the years become central to the programmes.
CBS sees it as its duty to create a more sustainable future, and there is no better place to learn about it than in a green, innovative and progressive city like Copenhagen.
Among the world's best
Following its foundation in 1917, CBS rapidly evolved into a city institution of educational excellence.
Just 168 students turned up on that first day with prospects for the future understandably tempered by the ongoing war in France. Today 23,000 make up its body, of which over 4,000 are internationals, together with 1,500 top-level faculty staff.
CBS is not only a place of learning; its research and development have helped to develop Denmark to the extent you'd find the school in the national fabric.
Globally revered as one of northern Europe's biggest and best business schools, its Full-Time MBA programme is ranked in the top 20 in Europe by Bloomberg Businessweek and among the top 30 MBAs offered at European business schools, according to the 2021 Financial Times European Business School Ranking.
Furthermore, only 1 percent of business schools worldwide can match CBS MBA programmes' triple accreditation from AACSB, AMBA and EQUIS.
Learning through diversity
Enrolling on one of CBS's MBA programmes will yield you qualifications respected across the globe and help you bridge the gap to a more fulfilling career.
Such a move is challenging and often disruptive, but through the introspection and reflection that follows, you will mature into one of the world-class business leaders that CBS produces with such regularity.
In purposely-small classes led by CBS's world-class teaching staff, you will have the time to shine and explore your understanding along with the opportunity to voice your opinions in a supportive community.
Group work, in teams of participants selected to ensure diversity, each with different strengths, is the norm as you contextualise course materials through your work experiences.
The programmes bring together both talented young and mature professionals from different backgrounds, industries and nationalities. Not only does this diversity present you with truly global networking opportunities – among peers and with prospective employers – but it challenges you to radically improve your co-operation skills.
Sustainability as key focus
As a participant on the CBS Full-Time MBA, you will gain critical insight into the admired Scandinavian business model, which prides itself on its ethical decision-making, social responsibility and green agenda.
"Business as usual is no longer a viable option. As the world around us is changing rapidly, a growing number of people are looking for new ways to do business," contends Dr Andreas Rasche, the Full-Time MBA Associate Dean.
"Corporate sustainability is becoming part of the mainstream business thinking, and students need to be able to understand its power in order to create positive change."
The goal of all three programmes is not to produce mere business leaders, but very much the leaders that our future needs.
"The Copenhagen MBA integrates principles of corporate sustainability seamlessly into its curriculum," enthuses 2020 graduate Basabdutta Bose, who relocated to Copenhagen from India to enroll on the Full-Time MBA. Today she is a contract manager at Cadeler in the renewable energy & offshore wind sector.
"I have met different companies pioneering sustainability in Denmark and this gave me great insight into how the concepts traverse from theory to practice. I cherish this opportunity to experience the applicability of corporate sustainability hands on."
The next Full-Time MBA programme starts in October 2022.
Customising the MBA and EMBA journey
Upon enrolling on the Full-Time MBA or the Executive MBA you will have the opportunity to refine your journey by choosing to specialise in Digitalisation, Entrepreneurship, Governance and Sustainability, or Finance. While the Full-Time MBA is a one-year full-time programme, the Executive MBA accommodates your work schedule with 4 to 7-day modules every month, spanning 21 to 25 months. The design of the EMBA allows you to have an impact in your organisation from the start of the programme.
"The CBS EMBA programme is a multi-dimensional journey, designed to gradually expand your skills and acquire a deep understanding of your own organisation," promises Jesper Rangvid, the Executive MBA Associate Dean.
"You will learn how to successfully develop and lead an innovative organisation within its strategic domain."
The next Executive MBA intakes are in May and September 2022.
Excellence in shipping and logistics
The Blue MBA is designed for high-potential global shipping executives.
It prepares you for a working life on the top level of international business administration, facing the challenges of globalisation, enhanced competition and never-ending technological change in the industry. At the core of the programme is an emphasis on the decarbonisation of shipping.
The next intake is in September 2023.
Driving change
The end result for all participants is an admirably global outlook, a valuable international network for the future, and highly regarded business expertise to create positive change for a more sustainable future.
To learn more about the programmes and upcoming deadlines – click here.