News
Maersk edged off world's largest shipping firm pedestal 
---
This article is more than 1 year old.
After decades on top, the Danish shipping giant has been pipped by rival MSC by the narrowest of margins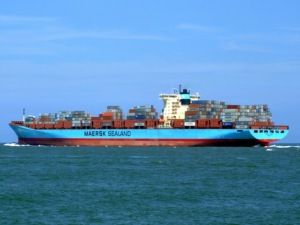 Danish shipping giant Maersk is no longer the king of the seas – at least in terms of cargo capacity. 
According to the latest top 100 list by online liner shipping solution Alphaliner, Maersk has been deposed by Mediterranean Shipping Company (MSC) … by a hair's breath.
Both firms account for 17 percent of overall capacity share worldwide, but MSC has slightly more Teu (Twenty-foot Equivalent Unit) capacity at its disposal.
MSC has 4,284,728 Teu compared to Maersk's 4,277,274 – the difference being the capacity equivalent of less than one container ship. 
READ ALSO: Copenhagen to base new green shipping research centre
MSC to consolidate lead
According to Alphaliner figures, Maersk still has the biggest fleet in terms of ship numbers at 736, but MSC new-found capacity domination looks set to continue based on future ship orders. 
MSC has 66 ships (over 1 million Teu) in its orderbook, while Maersk only has 25 (about 255,000 Teu). 
The figures also revealed that Maersk chartered roughly 42 percent of its fleet, while MSC did the same for about 64 percent of its ships. 
Check out all the figures here or in the image below.