News
Danish News Round-Up: Lynetteholm work beginning amid protests
---
This article is more than 1 year old.
Meanwhile, excavations at the German end of the Fehmarn Link have been put on hold due to fears they might damage local reefs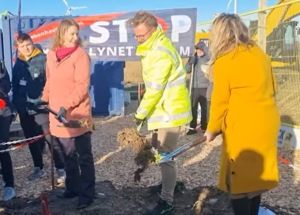 Dignitaries yesterday dug up the first sod of the man-made island of Lynetteholm, which will eventually house a new city district in the waters of Copenhagen Harbour close to Nordhavn.
Protestors did their best to spoil the ceremony, which involved city lord mayor Sophie Hæstorp Andersen, the transport minister, Benny Engelbrecht, and By & Havn head Anne Skovbro.
One lay down on the ground where the dignitaries posed with their shovels, but was moved away.
Much has been made in the media about the earth required to build the island, but first 2 million cubic metres of sludge will be taken from the seabed and dumped in the sea off Køge Bay.
---
Close to a quarter of a million now have a share savings account
Around 217,000 people in Denmark now have a share savings account, according to Finans Danmark. The accounts were thought up in 2019 following broad political agreement it would encourage more people to invest in shares. Since then an even bigger incentive has emerged: punitive interest payments on all savings totalling over 100,000 kroner. Some 114,000 accounts were accordingly opened last year, as the first 103,500 kroner can be deposited tax-free. 
Unable to bet: over 30,000 names on voluntarily excluded gambler register
There are currently 30,451 names on ROFUS – a register that problem gamblers to voluntarily join, which means they are unable to place a bet. Created in 2012, the same year in which Danish gambling laws were liberalised, the Register of Voluntarily Excluded Players has attracted 4,000 registrations annually since 2016. Some 76 percent are men, and 26 percent are men aged 20-29, confirms the Danish Gaming Authority.
Missing Irishmen found dead in waters of Aarhus Harbour
An Irishman reported missing in Aarhus in December has been found dead in the harbour waters of the same city. The relatives of 29-year-old Peter Burns have been informed. Burns went missing on December 5 after a shift at a local restaurant, and his last confirmed sighting was in the vicinity of where his body was eventually found. 
Corona-stricken DF head will not be able to attend leader vote 
Dansk Folkeparti leader Kristian Thulesen Dahl will be missing when his successor is confirmed on Sunday because he has contracted corona. Corona passes are compulsory to attend the extraordinary annual meeting on January 23 where members will vote for a new leader from four candidates. Morten Messerchmidt is the favourite to win. 
Numbers of distressed calls to childline on the increase
Børns Vilkår has confirmed that the operatives working on its childcare hotline Børnetelefonen had a record number of conversations with children last year – particularly concerning loneliness and self-harm. Børnetelefonen received a boost in November when more volunteers joined its ranks, thus enabling it to offer a 24-hour service. 
Excavation work on German end of Fehmarn Link stalled by complaint
Some of the underwater excavation work has temporarily stopped at the German end of the Fehmarn Link following a complaint by a citizens' group that serious damage could be sustained by reefs in the area. The Bundesverwaltungsgericht  court in Leipzig made the order to stop digging in the critical areas, reports  Flensburg Avis. It is believed the court will investigate and make a decision in three months' time.
Jailed for cutting man's little finger off with an axe
Two men aged 27 and 35 have been handed prison sentences of five and two years for their role in violence that involved cutting off another man's little finger. The incident took place in Horsens in the summer of 2020. It is believed the pair cut the 41-year-old man's finger off with an axe.