News
Science Round-Up: Beef in ginger sauce best avoided!
---
This article is more than 1 year old.
The same is true of chlamydia, but that doesn't stop close to 25,000 young people getting it every year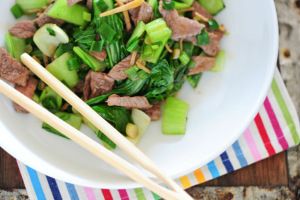 If beef in ginger sauce is on the menu at home tonight, you might want to check those ingredients!
A whole batch of ginger powder has been recalled due to abnormally high toxin levels, while PFOS – another harmful toxin that can affect the liver, immune system and be carcinogenic – has been detected among beef sourced from Funen.
Ginger snaps
Golden Foods made the decision to recall the ginger powder following the discovery of aflatoxins, confirms the Danish Veterinary and Food Administration. Aflatoxins are potentially carcinogenic. 
Check your home supply for 'TRS Ginger Powder' accompanied by the barcode '5017689002565'. It has apparently been on sale in specialty stores throughout the country. 
Return to the place of purchase for a refund.
What's the beef?
It's been a busy week for the Danish Veterinary and Food Administration, which has been able to confirm the source of the Funen beef with PFOS is Vandcenter Syd.
Vandcenter Syd has not been able to determine the exact source, but it is thought to stem from nearby sand, gravel or sludge. 
Last April, fears of a cancer timebomb were raised in Korsør in Slagelse Municipality in west Zealand due to the likely presence and ingestion of PFOS over a period of 15 years.
In other science-related news:
– Historic chlamydia case numbers suggest that corona did little to stop the spread of the STD. Among the 15-29 age bracket in 2020 there were 29,443 cases – up from 28,208 in 2018. The age group accounts for 85 percent of all cases. Kolding, Vejle, Aalborg and Randers have the highest rates. 
– FermHub Zealand has received 10 million kroner from Energiselskabet Andel to create a growth environment for startup companies within industrial biofermentation. It should lead to the creation of more fermented algae, yeast cells and fungi – the food of the future!
– There have been no applications to breed mink once the ban is lifted next year. Uncertainty has reigned in the profession, which was effectively closed down in November 2020 when the government decided to cull all 17 million mink in Denmark and ban further breeding. 
– Danish government bonds targeted at a green transition with a value of 5 billion kroner were traded yesterday, according to Danmarks Nationalbank – the biggest opening of a new bond since 2008, according to the Climate Ministry.
– Leo Pharma, the country's third biggest pharma company, has confirmed plans to lay off 1,000 positions over the next two years. It started with 68 redundancies yesterday. Leo Pharma, which is headquartered in Ballerup, has 6,000 employees worldwide.