News
Sports Round-Up: Showing some Love – Danish club signs Brazilian legend
---
This article is more than 1 year old.
Elsewhere, Denmark's Olympic line-up is complete, the football team wins a FIFA award and the handball lads keep ploughing through the Euros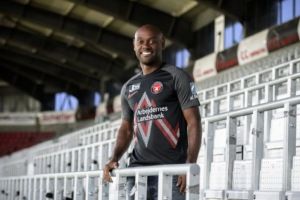 FC Midtjylland has developed a bit of a reputation for head-turning signings involving players with world-class pedigrees.
Quite a few fans dropped their jaws when the club signed Rafael van der Vaart back in 2016 – a deal that ultimately fizzled out on the pitch. 
Now they have signed another ageing legend: the Brazilian striker Vagner Love on a free transfer.
Now 37, Love is probably best remembered for his time at CSKA Moscow, where he scored goals by the boatload. Internationally, he netted nine goals in 25 caps for Brazil, winning two Copa America titles. 
READ ALSO: Clara purring like a koala: Young Dane upsets seventh seed to advance to final 32 of Australian Open
From Almaty to Herning
Fresh off a stint in Almaty, Kazakhstan, Love joins FCM on a contract for the rest of the season as the club attempts to keep its slender Superliga lead.
"Vagner Love brings immense experience to the table," said FCM sporting director Svend Graversen.
"He has played for his country, and in a number of cultures and leagues. That makes him a solid profile to get into the squad, where he can share his experience with younger players and the other Brazilians."
Check out the highlights from his latest stint here.
---
Denmark completes Olympic team
A record number of athletes will be competing for Denmark during the upcoming Winter Olympics in Beijing. Denmark will be sending 62 athletes to China – 29 women and 33 men – and the record is down to the men and women sending ice hockey teams for the first time. Ice hockey player Frans Nielsen and women's curling captain Madeleine Dupont have been bestowed the honour of being flag bearers during the opening ceremony. The event will take place from February 4-20 and be aired on DR, TV2 and Discovery+.
Handballers continue EURO run
Denmark's domination at the 2022 handball Euros continued this week thanks to a 28-24 win last night over Iceland in the second group stage. Denmark won all its games in the initial group stage and now face Croatia (Saturday), the Netherlands (Monday) and France (Wednesday) in pursuit of a semi-final spot. Denmark and France lead the group on four points, though the French have a better goal difference (+2) and head the standings. All Denmark's games are aired live on TV2.
Brentford Danes set PL record
A new record was set by Brentford in their 1-3 loss to Manchester United on January 19. Mathias Jensen, Christian Nørgaard, Mads Roerslev, Mads Bech and Jonas Lössl all started the game for the Bees and thus set a new record for the number of Danes in a starting eleven in a Premier League match. That record could be further improved in the future, as Christian Eriksen has been linked to a transfer to Brentford by several English media outlets. 
Footballers score another award
The men's national team has once again been lauded for their actions following Christian Eriksen's collapse during Denmark's opening match against Finland in Euro 2020 last summer. This time it is FIFA getting in on the Dane-praising action, awarding the national team and its medical staff the FIFA Fair Play Award for heroics displayed during the horrific moments in the wake of Eriksen's collapse. Denmark won the prize ahead of Leeds manager Claudio Ranieri and former Celtic captain Scott Brown. 
Parken up for sale?
Denmark's national stadium Parken could be up for sale in the future following the decision of its owner, Parken Sport & Entertainment (PS&E), to look into the possibility of divesting parts of its real estate portfolio. The portfolio includes Parken, the home of Denmark's national side and FC Copenhagen, as well as the Lalandia resort centres in Rødby and Billund. A prospective sale, however, would be contingent on PS&E being able to continue on as tenants. In September, the firm revealed it was considering making FC Copenhagen an independent company. At the same time, the company said it had debts totalling 1.4 billion kroner.
NHL pioneer calling it quits
Frans Nielsen, Denmark's first NHL player, has decided to hang up his skates at the end of this season. The 37-year-old has played 925 NHL games since making his debut with the New York Islanders back in 2007. Following a long and successful stint in New York, he joined the Detroit Red Wings for a few seasons before moving back to Europe and the German League last year. Nielsen will cap his career in a couple of weeks by leading Denmark in Beijing in its first appearance at the Winter Olympics. 
Rune reaches ranking target
Denmark's men's tennis hope Holger Rune may have lost in the first round of the Australian Open this week, but the silver lining is that he has accomplished one of his goals for 2021 … albeit a couple of weeks late. Rune has jumped three spots to 99th on the most recent ATP World Rankings, the first time the 18-year-old has cracked the top 100. Rune began 2021 ranked just outside the top-500. In Melbourne this week, he led Kwon Soonwoo of South Korea 6-3, 4-6, 6-3 but lost the next two sets after suffering from cramps.