News
Local Round-Up: City institutions still determined to honour Crown Princess Mary's 50th birthday
---
This article is more than 1 year old.
Composer Bent Fabricius-Bjerre, meanwhile, will be immortalised by an alley, or possibly a square, in Frederiksberg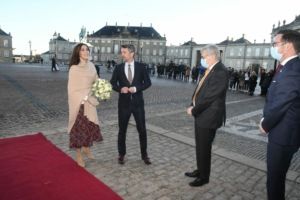 Plans to celebrate Crown Princess Mary's 50th birthday on February 5 have been cancelled due to corona, but that has not stopped some capital institutions from marking the occasion.
Elephant and castle
On February 2, Mary has been invited to dig the first sod of a new enclosure for Australian animals at Copenhagen Zoo, which will be called 'Mary's Australian Garden'. The event (10:00-11:30) is open to the public.
And a day later, on February 3, she will attend the opening of 'Crown Princess Mary 1972-2022' at the National History Museum at Frederiksborg Castle in Hillerød. 
Holding one in Kolding too
Greater Copenhagen isn't the only part of the country honouring the princess.
On January 31, Mary is expected to open 'Mary and the Crown Princesses', a new exhibition at Koldinghus in Kolding. 
---
Alarming number of daycare workers out sick with corona
The parents group Københavns Forældre Organisation (KFO) last week expressed its concern about the large number of daycare workers currently off work with corona. At many institutions, there are simply not enough adults to take care of the children. According to KFO chair Maja Hvidtfeldt Håkansson, there are reports of institutions where nine out of 16 workers have corona, to the point that some are advising parents to keep their children at home. Generally, 7 percent of institutions in the capital have an employee absentee rate of more than 30 percent, 9 percent an absence of 15-30 percent and 26 percent an absence of 5-15 percent. 
Frederiksberg to honour composer with an alley … or possibly a square
Frederiksberg Municipality has decided to name a street or square after Bent Fabricius-Bjerre, the composer best known for the tune 'Alley Cat' who died in 2020. He also wrote iconic tunes for the Olsen Gang films and TV series 'Matador'. It is rumoured Solbjerg Plads could be renamed to accommodate the composer. 
High jobless rate among flexjob-approved workers cause for concern
The unemployment rate is only 3.6 percent right now, but among flexjob-approved workers – individuals who the municipality assesses are only capable of working 20 hours  a week – it is much higher at 13.8 percent. Flexjob-approved workers need employers who are prepared to pay for 10 of their 20 working hours, but despite the discount many do not take them off. Eleven of the 20 worst performing municipalities are in the Capital Region. Copenhagen, with 21.6 percent, has the second highest rate in Denmark, bettered only by Glostrup (22.7). Nationwide, 15,000 flexjob-approved workers are unemployed.
Moving nightlife to areas with low residency numbers
Konservative would like to see all nightlife in the capital relocated to areas where there are minimal residencies – for example, industrial areas such as Kødbyen, the old Meatpacking District in Vesterbro. City Hall formulated a new restaurant and nightlife plan shortly before the local elections in November, but Konservative is questioning the establishment of a nightlife committee and how much authority it will actually have.
Fisketorvet to add a few more strings to its bow
The Fisketorvet shopping centre is home to two ongoing developments. The first is to build padel courts on its roof in co-operation with Heylo Padel, The facilities could be ready in the spring. The second is a new 6,500 sqm food universe in the area already inhabited by restaurants, which will include a street food market on the bottom level, fast food outlets on level 1, restaurants on level 2 and possibly some outlets on the roof. It is expected to open in 2023. 
Work on cloudburst tunnel to begin in 2024
Work on Svanemøllen Skybrudstunnel, an enormous cloudburst tunnel that will protect half of Copenhagen from flooding, will begin in 2024 with a view to opening in 2030. It will stretch from Frederiksberg, Gladsaxe and Gentofte to Nordhavn and be big enough to hold an amount of water equivalent to 15 Round Towers. Placed 10-30 metres underground, it will consist of 10 km of tunnel pipes, up to five metres in diameter. Among the roads most prone to flooding in its catchment area are Lersø Parkallé, Lyngbyvejen, Lygten and Gentofterenden.  
The sea is not your landfill: Boat demo against man-made island
Around 100 boats assembled on January 15 to demonstrate against  the construction of the man-made island Lynetteholm in Copenhagen Harbour – specifically plans to transport untold amounts of sludge from the proposed site and dump it in Køge Bay. Banners reading "Our common sea – not your landfill. Shame on you" could be seen at the demonstration at the proposed site of the island. The first sods of Lynetteholm were ceremoniously dug a few days later.
Home visits to discuss substance abuse … if you're interested
North Zealand Police has offered 240 people a home visit to discuss their substance abuse. It is targeting motorists charged with drug or drink driving over the last three months, or with two offences in the last five years. Participation in the meetings is entirely voluntary. 
Øksnehallen has jabbed its last visitor for now
The vaccination centre at Øksnehallen in Vesterbro jabbed its last visitor on Sunday. Originally it had been expected to continue as a centre until March 7, but it is believed the hall has an event to organise. Located on Halmtorvet, it has been one of the capital's busiest, but demand has fallen. In the Capital Region, 87 percent of all over-11s invited to have a jab have been vaccinated, along with 43 percent of kids aged 5-11.
Copenhagen Event moving on from Sydhavn
Copenhagen Event has called time on its Teglværket location in Sydhavn where since 2019 it has been offering visitors a place to shop, eat, hang out and party. Located at Teglholmsgade 27 by the waters of the harbour, thousands have enjoyed taking to the water thanks to a collaboration with GoBoat. Copenhagen Event is looking for a new location.