News
International Round-Up: Denmark's COVID-19 vaccine donations going to waste
---
This article is more than 1 year old.
Elsewhere, Europe is eyeing new asylum system, the PM is off to Germany and beefs with Mali and Moscow continue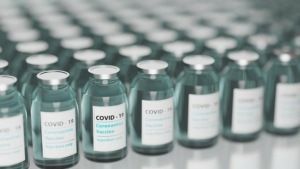 According to Information newspaper, a fair proportion of the millions of donated COVID-19 vaccines, which Denmark pledged to the international vaccine initiative COVAX, have gone to waste. 
Over 105,000 AstraZeneca doses are set to be destroyed because the medicinal firm has apparently provided incorrect information regarding their expiry date to COVAX, which distributes the vaccines to developing countries. 
They supposedly had an expiry date of the end of February 2022, but in reality this should have been the end of January 2022. 
READ ALSO: Denmark donates millions of COVID-19 vaccines abroad
Flemming is fuming
The error meant countries that initially agreed to take the vaccines ended up reneging because they were unable to use the vaccines before they expired. 
The development minister, Flemming Møller Mortensen, is fuming over the revelations and he revealed that the Danish authorities have launched a legal dialogue with AstraZeneca over the incorrect expiry dates.  
A further 500,000 doses are in danger of being binned for the same reason.
---
New European asylum system?
According to the immigration minister, Mattias Tesfaye, there is increased support for developing a new asylum system in Europe, despite the government failing to push it through over the past two and a half years. Tesfaye said he experienced more support for the change following a meeting of his European peers in Lille on February 4. "There is much more support than there was a couple of years ago," Tesfaye said according to MSN. Tesfaye expects Denmark to experience another surge in asylum applications sometime in the future. 
Chat with the new Chancellor
PM Mette Frederiksen will be shooting across the border this week to meet Germany's new leader, Chancellor Olaf Scholz. Frederiksen and Scholz are set to have a work lunch on February 9 to discuss strengthening Danish-German co-operation, the green transition and the security situation in Europe. Scholz assumed the leadership reins in Germany late last year from Angela Merkel. Previously he was the finance minister and part of Merkel's government
A mew EU pet peeve
A new EU law that seeks to unify regulations when it comes to animals needing medical treatment could greatly cost pets and pet owners in Denmark. A byproduct of the regulation on veterinary medicines products means that vets in Denmark could face having to put animals down instead of treating them, even if they can safely do so. According to vets, it is particularly pet rabbits that will suffer as they are viewed as a production animal in many EU countries, which is not the case in Denmark, where they will now have to be treated as such. It means that vets can use only very few medicinal products to treat rabbits now. The new law, which came into effect on January 28, aims to reduce the use of antibiotics in the EU.
More maliciousness in Mali
The foreign minister, Jeppe Kofod, has condemned the government in Mali for giving the resident French ambassador 72 hours to leave the country. France's foreign minister meanwhile stated that "Mali's illegitimate military dictatorship is out of control." The news comes just a week after Denmark was asked by the same government to withdraw its troops from the country. Kofod said that Denmark might withdraw its ambassador to Mali in response. 
Mail from Moscow
The Foreign Ministry has received a letter from Russia concerning the escalating situation in Ukraine. In the letter, which was also sent to the US, Canada and other European countries, the Russian government refers to an OSCE agreement that Denmark signed that said that countries "must not strengthen their own security at the expense of the security of other countries". Russia wants the west to guarantee that Ukraine never becomes part of NATO, but Kofod contends that Russia must withdraw its immense troop amassment at the Ukrainian border before diplomatic discourse can take place.
Improving refugee lots in Lebanon
The Novo Nordisk Foundation has set aside 40 million kroner to help provide a better future for Syrian refugees in Lebanon. The money is earmarked to three projects that all support vulnerable young people, improve their living conditions and enhance their opportunities. Two projects focus on developing skills and increasing employment, while the third will improve their mental health and tackle the effects of the trauma they have endured. About 1.5 million Syrian refugees are currently living in Lebanon. 
New tax deal with France
The government has inked a deal with France pertaining to a new double taxation agreement. It is expected to impact Danes and Danish firms living or operating in France. Danish pensioners living in France on Danish pensions now face being taxed by Denmark, thus losing the financial incentive to move to France as a pensioner. Meanwhile, Danish companies will enjoy fewer administrative burdens and improved trade conditions with French companies. The new rules will come into effect on 1 January 2023.
Denmark to drive tobacco policy
Over the next three year, Denmark will co-ordinate Joint Action on Tobacco Control II, an ambitious European initiative that seeks to boost control of tobacco and reduce smoking across Europe. Some 21 member states are co-operating to work out a number of strategies and recommendations that can strengthen tobacco regulation by looking into current advertisement legislation, tobacco taxes, smokeless environments and packaging. The project is partly financed by the EU Commission.