News
Copenhagen's artificial island construction off to rocky start
---
This article is more than 1 year old.
Phase 1 of the Lynetteholmen development has barely started but it is already expected to go 200 million kroner over budget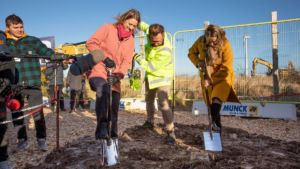 Last month, the first shovels of dirt were pulled up as part of the official opening ceremony for the giga-construction project involving Copenhagen's artificial island, Lynetteholmen.
Now, less than a month later, it has emerged that Phase 1 of the project – which includes establishing the island's outer perimeter using massive boulders – has been grossly under-budgeted.
The phase was scheduled to cost 300 million kroner, but city developer By & Havn has announced it will end up close to 500 million kroner instead, according to the contract made with contractor Per Aarslev.
"We've seen that the price of Phase 1 will be higher than expected. For instance, the price of steel is rising at the moment and there are doubts related to the amounts required," Ingvar Sejr Hansen, the head of sales and development with By & Havn, told BT.
Copenhagen Municipality has set aside a deficit guarantee of 400 million kroner, as security for the eastern part of Lynetteholmen's outer perimeter will be formed as a coastal landscape. 
By & Havn expects that this financial buffer will enable the unexpected cost increases of Phases 1 and 2 – the latter of which has yet to start – to be covered. 
READ ALSO: Lynetteholm work beginning amid protests
Cashing in on dirt
The project aims to generate additional funds via other construction projects paying to unload excess earth within Lynetteholmen's perimeter and thus also help create the new island.
In total, those two initial phases (see images below) are expected to cost 2.5 billion kroner to complete. 
"We can see that our business model can handle expenses above 2.5 billion kroner, so we still expect to have a project that rests within itself financially, despite the bigger budget," said Christensen.
However, experts point to the city's 400 million kroner deficit guarantee as being taxpayer funds, so Christensen's statement isn't quite accurate. 
The new transport minister, Trine Bramsen, has said she needs some time to familiarise herself with the project before weighing in on the situation. 
The massive project is expected to run until 2070 and cost 20 billion kroner.