News
Protest at SIRI headquarters against "rigid", "arrogant" immigration rules
---
This article is more than 1 year old.
Anger is growing with the Danish immigration service for its handling of non-EU skilled worker visas, as scores of foreign chefs are deported from the capital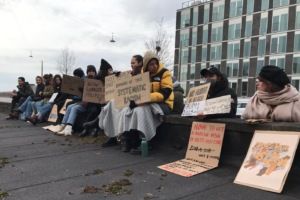 Today, a sit-in is being staged outside the headquarters of SIRI – the agency that oversees immigration and work visas – to raise awareness of the rigid and discriminatory nature of Danish immigration policy.
Anger at SIRI has been growing, particularly in the hospitality industry, over the past few months. The protest is organised by Jessie Liu – a Copenhagen-based chef from Taiwan.
On February 11, Liu posted an explainer on Instagram: "With SIRI changing visa regulations multiple times a year, the livelihoods of many people – especially non-EU citizens – continue to be drastically affected. As foreign chefs in Denmark, we've heard too many ridiculous stories and seen too many dear friends forced to leave the country. At times like this, we must speak up and take action."
"We hope this sit-in can spark some meaningful discussions, promote social justice for immigrants in Denmark and eventually bring positive changes to the Danish immigration system."
"Enough is enough!"
"Enough is enough!" proclaims Liu in her call to action, which has been widely shared amongst the chef community. In it, she spotlights examples of SIRI's flagrant mishandling of chef visa cases.
A recent, high-profile case saw Jah Izakaya – a beloved Japanese eatery in Vesterbro – lose their head chef, Shinya Ito.
"Due to unexpected and shocking challenges concerning our head chef's working permit, we are forced to do without him for a while," stated a spokesperson for the restaurant on February 4.
"It's honestly hard for us to comprehend that we have to see our head chef, his wife, and three kids leave Denmark after almost six years in the country."
A pattern of discrimination
Ito's deportation is just the tip of the iceberg. Bord, a newsletter dedicated to investigating the Copenhagen restaurant scene, reported on January 16 that "toward the end of 2021, SIRI admitted that it had rebuffed a full 96 percent of chef applications".
"I've been living and working in Denmark for three years. I just changed job and SIRI rejected my visa because they said that I 'don't have the qualifications for this new job'," said Juan Manuel, a chef from Venezuela, whose story Liu shared on her Instagram.
"I have a degree in both hospitality and gastronomy, not to mention more than 15 years of professional experience working in restaurants."
Not 'high-end' enough for a visa
Sherwin, a chef from the Philippines, described a Catch-22 system that punishes non-EU workers.
"SIRI is always looking for reasons to send immigrants out of this country. I know many chefs whose visas got rejected because the restaurants that they want to work in here are not 'high-end' enough," contends Sherwin.
"The salary on our contract is always either 'too high' or 'too low'. No matter what visa we apply for or how we do it, we will not win."
An American chef, Tristan, who worked for Claus Meyer's Nordic business venture in New York, testified to the same.
"Meyer was trying to hire me to work in Denmark but we struggled with the rigid and slow immigration system," recalled Tristan.
"After seven months of waiting, SIRI rejected my case. The reasons seemed superficial, mainly focusing on the 'low prices of the restaurant's lunch menu'. It made one question if the case workers even had any culinary insights."
Arrogant and irresponsive
Furqan, a chef from India said he was "astonished" by the Danish system.
"Denmark is perceived as super-efficient, futuristic and self-aware. But I've found myself dealing with the most inefficient, arrogant and irresponsive immigrant bureau I've ever come across in my past six years living in multiple countries in the EU," he said.
As the sit-in outside SIRI's headquarters in Valby gets underway, Liu hopes the protest will draw attention to the plight of all immigrants who have struggled with SIRI's policies – not just chefs.
"It's only when enough individuals take action that systematic change becomes possible," she says.