News
Thor owns Thursday, but first Wednesday is going to be wet!
---
This article is more than 1 year old.
Gale-force conditions on the way for Denmark this week: twice if we're lucky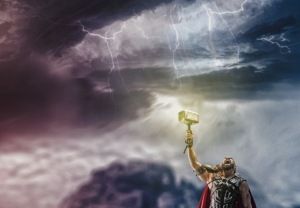 The DMI national weather forecaster has confirmed that two storm surges are heading Denmark's way this week, bringing gale-force winds to the country on Thursday and then on Saturday.
27 percent chance of a storm
The first surge will pass northwest of Scotland on Wednesday night before hitting Denmark's east coast on Thursday – most likely heading towards the southeast, but gradually weakening on its path.
According to yr.no, the capital region can expect wind speeds of 12 metres per second from 08:00 until the evening, with gusts of up to 24 m/s – around five m/s short of Storm Malik, but still very windy! 
The probability of Thursday bringing us a storm is 27 percent, according to TV2.
Round 2, but who's in the firing line?
At present, the capital region has nothing to fear on Saturday, but this could easily change. 
The north will be the most affected, with DMI conceding that "the exact trajectory and development is still somewhat uncertain". 
Again, the winds will be gale-force, most likely at their most powerful on Jutland's west coast and in the Baltic Sea north of Zealand from Friday 18:00 until Saturday 15:00.
Bucket-loads tomorrow
The week will also be pretty wet, with Wednesday bringing 16 mm of rain to the whole country. Few areas will escape the deluge, which will be at its strongest during the evening.
As things stand, rain is forecast on every day until Sunday in the capital region.
But the temperature will remain unseasonably warm, fluctuating between 6 and 8 degrees throughout the period.