News
SSI counters overseas misinformation concerning Denmark's COVID-19 numbers
---
This article is more than 1 year old.
Harvard professor Dr Eric Feigl-Ding among those given a basic lesson in interpreting data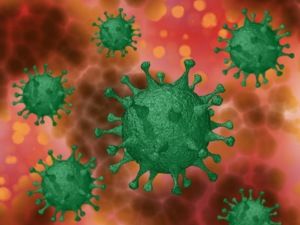 There are just over 6,500km separating Copenhagen and Washington DC, but Americans seem to be very interested in what is happening here right now.
The self-appointed chief investigator is Dr Eric Feigl-Ding, an epidemiologist from Harvard, who has taken to Twitter to write nearly 20 posts commenting on graphs and numbers released by the Statens Serum Institut, like the one below.
MY GOD—Danish 🇩🇰 political leaders have completely lost their frigging minds releasing all #COVID19 mitigations — these are exponentially ⬆️ surging DEATHS not cases!!! This is what happens when a country's leaders gaslights its own citizens. #CovidIsNotOver pic.twitter.com/O7bfcwRuMQ

— Eric Feigl-Ding (@DrEricDing) February 15, 2022
The SSI has taken it upon itself to fight what it considers as misinformation. To do so, it has been answering tweets by Feigl-Ding and others patiently. It has even started translating its graphs to make sure everyone can understand the subtitles.
Read the report and the thread!
Dark blue bars are the number of newly admitted SARS-CoV-2 positive patients receiving Remdesivir and/or and Dexamethason,standard COVID-19 treatment. The green curve is the proportion of SARS-CoV-2 positive patients receiving COVID-19 treatment. https://t.co/cIRVfB5oPh pic.twitter.com/gbUb7kml7z

— Tyra Grove Krause (@TyraGroveKrause) February 14, 2022
Tyra Grove Krause is the executive vice president and medical epidemiologist at SSI.
Pushing their political agenda
Feigl-Ding is not the only one looking at Denmark and calling out its government for ending all restrictions. And all those who are doing it are not American.
Walter Ricciardi, a special consultant of the Italian health minister, went on national TV and used the Danish example to push a political agenda. Many users drew SSI's attention to that fact.
Hi @SSI_dk. Please consider the option of taking a stance against false data used to support political agendas. https://t.co/q7ozB72ltn

— Cippalippissimo (@cippalippissimo) February 15, 2022
Polarised debate
Like in every debate, there are two sides: those who think Danes have gone mad and would rather spread their truth instead of looking at the numbers properly, and others who believe in providing the public with the whole picture, albeit with numbers that are quite shocking.
On the SSI's side are scholars like Claes de Vreese, a Danish professor at the Amsterdam School of Communication Research (ASCoR). He told Feigl-Ding that he respects him but that he should stop spreading misinformation.
Dear @DrEricDing. I follow you with interest and respect. You are fast and highlight important aspects.

But please stop the #misinformation ⬇️ The official 🇩🇰health authorities @SSI_dk have repeatedly shared correct numbers with you. Don't ignore. Don't spread misinformation. https://t.co/XodzqSpV24

— Claes de Vreese (@claesdevreese) February 15, 2022
A few hours later he posted the direct link to the page created by SSI on which they tackle his points of misinformation.
Is the pandemic over yet?
"Viruses don't have ears," Feigl-Ding writes, and they cannot hear when politicians say the pandemic is over.
13) Danish leaders need to remember that the "viruses don't have ears" and don't listen to any political propaganda that "COVID is over". We need to use science of both vaccines and mitigations to get it back to normal. Hope & denialism are not valid strategies. #CovidIsNotOver https://t.co/NTQFqZ61mH

— Eric Feigl-Ding (@DrEricDing) February 15, 2022
However, no politician said the pandemic is over just yet. What was said in the press conference back on January 26 was that Covid-19 would not be considered a disease dangerous to society.
In fact, PM Frederiksen wrote in a post that day that: "from February 1, Denmark will be completely open again. […] This is firstly because so many Danes have been vaccinated."
As is shown in the graph, you can see that 81.53 percent of the population was fully vaccinated by February 14. That is about 17 percentage points more than the American population (64.25 percent).
The post continues: "And secondly, the authorities estimate that Omicron typically leads to a milder course of illness. Denmark is therefore in a very good place overall. Does that mean the pandemic is over? No, it does not. Corona is still with us. And we have a special responsibility as a society to look after our elderly and vulnerable – especially now. Everyone should feel safe when restrictions are lifted."
What and who to believe
It's certainly true that Denmark has been declaring more daily COVID-19 cases  than most other countries:

But it is also testing a lot more people than the other countries: