News
Culture Round-Up: New book considers why Danish humour either hits the sweet spot or sinks like a stone
---
This article is more than 1 year old.
Contrasting fortunes is something the artist Gerda Wegener and Denmark's recent Eurovision entries can relate to: one is in high demand, while the other is losing its appeal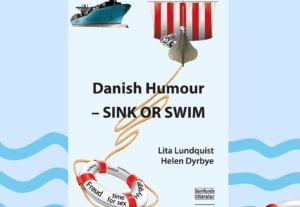 Internationals are often sceptical when they hear how Danish humour is uniquely brilliant. Most Danish stand-ups, they reason, have historically been rip-offs of Eddy Izzard or Robin Williams. And some of the dark stuff, they claim, is unfunny, offensive and hygge-racist.
A new English-language book, 'Danish Humour – Sink or Swim', is accordingly seeking to shed light on why many Danes find inappropriate matters so amusing and come across as 'in-your-face' and rude. 
Penned by Helen Dyrbye, the former Copenhagen Post children's writer who previously co-authored 'The Xenophobe's Guide to the Danes', and CBS-attached academic and writer Lita Lundquist, it is now available from various bookstores and online outlets.
All sorts of interesting information
The book features academic insights, research, theories, opinions, amusing observations and real-life incidents, taking a look at the various factors – society, language, hygge – that contribute to the country having such a special sense of humour.
Combining the expert opinions of philosophers, psychologists, management experts, linguists and sociologists, the authors have aimed to be both entertaining and informative. 
It's aimed at anyone who is in a relationship with, lives with, studies with or works with a Dane; anyone planning to relocate to Denmark or conduct business in the country; Danes who do not understand why they come across as rude, particularly in business circles; and fans in general of cultural differences: both linguistic and humorous.
That's it! Dyrbye, you're deported!
"Chapter 8 is my attempt to describe some intricacies of the Danish language … I hope I don't get my citizenship revoked," contends Dyrbye.  
"And chapter 9 reveals some secrets that are important for foreigners to know but are easily overlooked."
Presumably there will also be a mention of Prince Philip of Britain, who was known to identify as Danish. His legendary humour certainly had a distinctly Danish tone.
---
Painting of 'The Danish Girl' to be auctioned in early March
A 1934 painting by Gerda Wegener of her husband Lili Elbe – the transwoman whose story was told in the 2015 film 'The Danish Girl' – is going under the hammer at auctioneers Bruun Rasmussen on March 8, which is International Women's Day. 'Sommervarmen' has a valuation of 400,000-500,000 kroner. 
Danish entries in Eurovision qualifier increasingly in mother tongue
A recent analysis reveals that the entries in the Danish Melodi Grand Prix, which this year is scheduled to take place on March 5, are increasingly being sung in Danish. In between 2012 and 2019, there were only three occasions when there was more than one Danish language entry. But in 2021, half the entries were in Danish, and for this year's content the proportion is five out of eight – the highest share for 18 years. The poor performance of last year's Eurovision entry, Fyr og Flamme, was partially blamed on the duo's decision to sing in Danish. It was the first Danish-language entry since 1997. Nevertheless, three of the last five winners of Eurovision – Ukraine (2016), Portugal (2017) and Italy (2021) – have been sung in the country's native language. Look out for our interview with Fuld Effekt later this week. Although they are singing in Danish, two of their members are half-British. 
Cannabis not gold! Christiania coinage exhibition recalls 1970s currency
Christiania launched its own currency in 1975 – four years after its foundation. In principle, one silver coin equalled one gram of cannabis, so more or less 30-50 kroner, depending on which stall you might visit. The coins had various motifs designed by Vagn Sorento Dichmann, including one of a squinted owl smoking a hookah. And they often bore the designation '1 FED'. Today the coins are a curiosity, and a collection assembled by Christiania event organiser Cosmic Hierarchy can now be observed at Den Frie Centre of Contemporary Art at Oslo Plads 1 in the centre of Copenhagen. The exhibition will continue from February 25 to May 29.
Turkish takeaway in Vanløse serves the best kebab in Denmark
The annual Just Eat Awards have named Turkish takeaway Le Bon Goút as the best place in Denmark to get a kebab. Located in Vanløse at Godthåbsvej 199, it is close to the border with Frederiksberg and the DSB rail station Grøndal. More than 10,000 people in Denmark vote for the winners of the awards, which have named Burger Palace on Vesterbrogade as the best overall takeaway. Despite only having a 3.5 Google rating from 496 reviews, Just Eat also awarded it with its prize for best value burger. 
The Libertines and Black Eyed Peas among the bands confirming shows
Music fans are slowly beginning to believe again after two years of postponed or cancelled shows due to the pandemic. The past two weeks have brought news of three appetising concerts, with more likely to follow. First up, The Libertines are marking the 20th anniversary of their first album with a tour that will see them perform at Store Vega on November 1. Tune in at 11:00 via ticketmaster.dk on February 25 to reserve your places to watch Pete Doherty and the rest of the band. Tickets cost 350 kroner. No less a big name, but minus Fergie, Black Eyed Peas have confirmed they will be playing at the Nibe Festival this year with a performance on June 29. Ticket sales to watch will.i.am, Taboo and Apl.De.Ap in action at nibefestival.dk are ongoing. British trio alt-J are playing at KB Hallen on November 5 to promote their fourth album, 'The Dream'. Ticket sales are ongoing at billetlugen.dk. They cost 360 kroner. 
Giant leap for auctioneer: Historic lunar landing photos to be auctioned off
Some 74 photographs taken during the Apollo lunar landing missions will be auctioned by Bruun Rasmussen on March 9. Individually, they are valued between 4,500 and 90,000 kroner, and the entire lot has a provisional estimate of 1.5 million. All of them are original NASA photographs taken by astronauts via their analogue cameras. Three of them are iconic photographs taken during the Apollo 11 mission in 1969, including Neil Armstrong's shot of a moonwalking Buzz Aldrin in which he can be seen in the mask: the Moon's first ever selfie. Meanwhile, also up for grabs via Bruun Rasmussen is a furniture set owned by Christian XI, along with other royal items from the 19th century – a collection that will be auctioned on March 2.
Denmark's Flora Pugh: Just 15 years old, young actress is tipped for the top
Flora Ofelia Hofmann Lindahl is a name to look out for in the world of Danish acting, reports DR. Aged just 15, she won the Robert for best actress in a TV show last year for her role in 'Ulven kommer', and this year there is growing buzz over her appearance in the film 'As in heaven'. Aged just nine she won Denmark's junior version of the Melodi GP, and her career has taken off since then. Next up is the TV series 'Rituals', which looks set to fill the traditional January 1 slot on DR.